You'll see pumpkins everywhere this time of year, from pumpkin-flavored foods, to pumpkin spice lattes to pumpkin spice scented air fresheners and candles. Most people know pumpkin is a healthy food packed with fiber, anti-oxidants and nutrients. But did you know it's also good for pets?
Pumpkin has many health benefits for your pet, including:
Urinary Tract Support. Veterinarians believe that the oils contained in the seeds and flesh of pumpkins support urinary health in dogs and cats.
Digestion. Fiber helps your pet stay regular. It is good for both constipation and diarrhea.
Furballs: The fiber in pumpkin can help prevent furballs.
Skin and Coat. The antioxidants and essential fatty acids contained in pumpkin seeds help moisturize your pet's skin and fur from the inside out.
Parasites. Intestinal parasites become paralyzed by cucurbitin, an amino acid in pumpkin seeds that acts as a natural de-worming agent.
Nutrition. Pumpkin is loaded with beta-carotene, vitamin A, iron, potassium, magnesium, manganese, copper, and zinc.
Weight Loss. The fiber in pumpkin can help a stomach feel full.
Canned pumpkin is available at most grocery stores. Be careful not to buy pumpkin pie filling, which has sugar and spices!
How much should you use? According to Veterinary Pet Insurance, "The amount of canned pumpkin that you add to your pet's meal will vary based on the species (dog or cat) and your pet's size. A Chihuahua, for instance, may only need a couple of teaspoons with each meal, whereas a Great Dane may benefit from half a cup of canned pumpkin. Before adding canned pumpkin to your pet's meals, reach out to your veterinarian as a precaution."
There are also ready-made products on the market:
Some pets are picky (like mine) and may prefer not to eat bland pumpkin puree from a can. High-end pet boutiques like Pussy and Pooch offer a variety of pumpkin products for pets like Fruitables Skinny Minis Pumpkin Spice Halloween Dog Treats, Evanger's Against the Grain Chicken & Pumpkin Samba canned cat food and Halo Peanut & Pumpkin Dog Biscuits.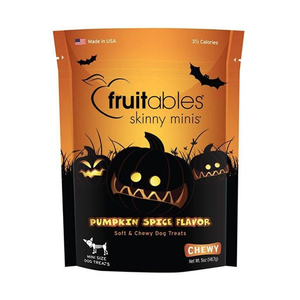 On Amazon you can find such pumpkin pet foods as Grandma Lucy's Organic Dog Treats and Halo Healthsome Peanut 'n Pumpkin treats, which are both gluten and grain free..
Prefer to make your own? You can bake your own Pumpkin Dog Treats with this recipe from One Sweet Appetite. Or make Pumpkin Pie Treats – made with sardines! – for your kitty with this recipe from Pet360.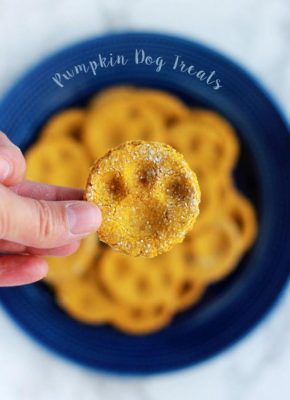 Have you ever given pumpkin to your pet?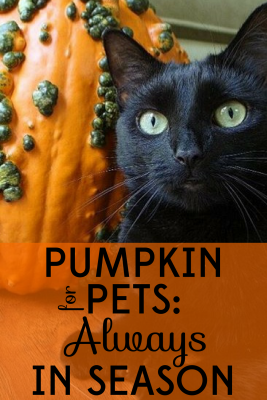 This post contains affiliate links.