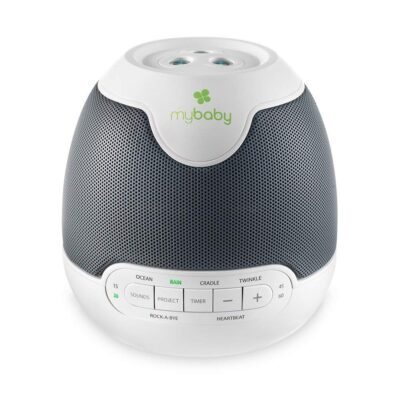 Sound machines were my saving grace as a new mom! Bedtime is now the best time for baby — and you. This HoMedics SoundSpa has three natural sounds, including a heartbeat, as well as three soothing lullabies to help your child softly doze off. Plus, it projects whimsical images on the ceiling for baby to enjoy. A true must for any nursery. Get the MyBaby, SoundSpa Lullaby – Sounds & Projection, Plays 6 Sounds & Lullabies, Image Projector Featuring Diverse Scenes, Auto-Off Timer Perfect for Naptime, Powered by an AC Adapter for only $18.74 right now!
SOOTHING SOUNDS & SONGS: The SoundSpa Lullaby Sounds & Projection comes with 3 soothing sound options: Heartbeat, Gentle Rain, and Ocean Waves. You can also choose from 3 nursery lullabies: Twinkle, Twinkle Little Star, Rock-A-Bye Baby, and Brahm's Cradle Song. Choose the most comforting sound for your baby to create a relaxing and peaceful atmosphere for better sleep. The volume is adjustable to ensure the music or sounds aren't too loud for your baby to sleep

PICTURE PROJECTOR: Choose from 3 diverse images on the image disk to project onto the wall or ceiling of your baby's nursery. The soft glow of the projector acts as a nightlight – dispelling the darkness and comforting little ones who are afraid of the dark. Moreover, the soft lighting and friendly images are specially-designed to help your baby relax and drift off to sleep. The images can function independently from the sounds if desired

AUTO-OFF TIMER: The auto-off timer can be set for 15, 30, 45, or 60 minutes to help conserve energy. In addition, the projector will auto shut off after 3 hours regardless

PERFECT FOR TRAVEL: The MyBaby SoundSpa Lullaby Sounds and Projection is made out of durable plastic and is small and compact – perfect for parents and babies on-the-go! The SoundSpa Lullaby Sound Machine and Projector packs easily in any luggage so that you can take the comforts of home with you to help your baby relax and get a good night's sleep

WHAT'S IN THE BOX: 1 MyBaby SoundSpa Lullaby, 1 Image Disk featuring 3 diverse scenes, 1 AC Adapter
Remember, Amazon prices can change at any time.
This post contains affiliate links.