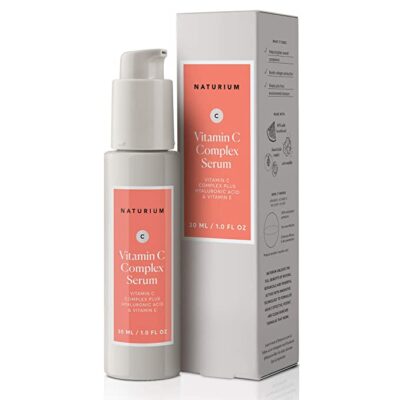 Save 20% off select Naturium best sellers today on Amazon! Improve fine lines, wrinkles, hyperpigmentation, roughness and general overall complexion with this Vitamin C Complex Face Serum – 1 oz, Facial Serum with 22% Vitamin C Complex Plus Hyaluronic Acid & Vitamin E, only $16 today! 
RADIANT SKIN: highly stabilized l-ascorbic acid encapsulation and bioactive fruit blend enhances overall complexion and boosts collagen production.

SHEILD SKIN FROM ENVIRONMENTAL STRESSORS: High concentration of pure l-ascorbic acid and Kakadu plum shield skin from environmental stressors.

BIOCOMPATIBLE AND SAFE: Optimized to work with the physiological process of the skin.Tested for pH levels and safety. Active ingredients are at efficacious levels and remain respectful and supportive of the skin's acide mantle.

HIGH QUALITY INGREDIENTS: Made with the highest-quality botanical, earth and marine-based ingredients combined with non-toxic-to-skin alternatives and advanced science.

CLEAN FORMULATION: Cruelty free, paraben free, vegan, gluten free, fragrance free and non-toxic.
This post contains affiliate links.