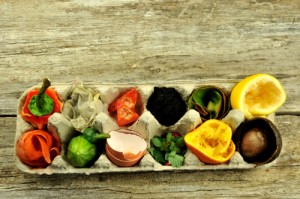 I've blabbed about how you have to set up your own composter for cheap to save money, but it's high time I did the math to prove my advice! Does composting at home really save money? Below I crunch the numbers so you don't have to.
How much money does a composter save you?
Let's look at the 5 year cost of DIY composting versus buying 100% compost from a garden supply store. Note, compost is different than garden soil – it's much richer! My local Home Depot does not sell 100% compost and hasn't for several years, according to one employee. You may have to go to a specialty garden store to get pure compost.
We'll assume you have a 250 square foot garden bed and add two inches of fresh compost to the entire bed every spring before the main planting season. So that's two inches across 250 square feet of garden, which equals…1.5 cubic yards of garden soil. Obviously, if you have a bigger garden, you'll need more compost. And if you have a small garden you'll need less.
Cost of DIY Composting
Start up costs of making a composter is about $4 for a small bucket composter, as we talked about in this post about making a composter for cheap. Each bucket holds 5 gallons, or approximately .029 cubic yards. You're going to need 1.5 cubic yards total, or 52 buckets. At a cost of $4 each, that's an investment of $280. That's a lot of buckets AND a lot of money.
Ok, let's make a smart decision to NOT buy 52 buckets and instead to dump out your homemade compost every few weeks and start a new batch. As your compost pile grows, you'll literally see how much money you're saving by not having to buy compost. Why not start with 6 buckets, which at $4 each, will cost you $24.
You can reduce that $24 start up cost if you buy a discounted gift certificate online, like I do for the stores I shop at most frequently (Home Depot, CVS, and Marshalls or TJ Maxx). If you're a veteran or have military status, Home Depot and Lowe's will give you an additional 10% off with identification.
Once you've got your composters set up, there's no more money to spend! Just toss in your food scraps (being careful of what NOT to put in your composter).
So the five year cost of making homemade compost is $24, or $4.80 per year.
Cost of Buying Compost
Right now at my independent garden store, 1 cubic yard of Coast of Maine "lobster compost" costs $8.49. I'd need two bags each season, with a little leftover, each year. (Not going to add in tax because that varies state to state.) So the five year cost of buying compost is $84.90, or $16.98 per year.
Another reason to love DIY
| | Homemade Compost | Buying Compost |
| --- | --- | --- |
| Start up costs |  $24 for six 5-gallon buckets |  None |
| First year cost | FREE |  $16.98 (two 1-cubic bags) |
| Second year cost | FREE |  $16.98 (two 1-cubic bags) |
| Third year cost | FREE |  $16.98 (two 1-cubic bags) |
|  Fourth year cost | FREE |  $16.98 (two 1-cubic bags) |
|  Fifth year cost | FREE |  $16.98 (two 1-cubic bags) |
| Total cost over 5 years | $24 |  $84.90 |
Once again, doing it yourself saves money! Over five years, composting at home saves you $60.90. The money you save grows the bigger your garden is. You can also save money by modifying existing containers to hold your kitchen scraps, avoiding the expense of buying a single composter (Click here for a price comparison of composters). Many readers have said that they don't buy any composters or containers, instead digging a hole in their yard and dumping all the compost there. Depending on your vermin situation, this may not work for you. But, digging a hole saves you $84.90 over the five years.
What do you use for a composter?