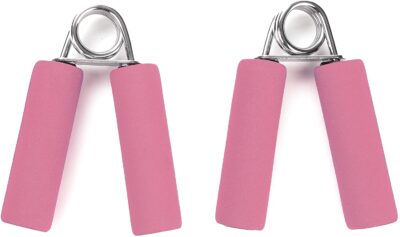 Injury Rehabilitation Using The Mind Reader Hand Grip Strengthener to work out every day is beneficial rheumatoid arthritis, arthritis, carpal tunnel, fractured or broken wrist, tendon surgery and all other hand injuries. The exercising of your hand muscles will speed up the recovery process thus help you heal faster. Most doctors will recommend a hand grip when dealing with bone issues in your hand or wrist. Strong & Durable Carbon Steel Wire Adopted by high-intensity and high-grade carbon steel, electroplated and lustrous on surface, spring force is up to 20-25KGs. Please be noted: When pressing it, the squeaking sound comes from friction of protection plate and spring. You can invert it to eliminate the squeaking sound. Click here for the Mind Reader 2FOAMGRIP-PNK Strengthener Set, Grippers, Soft Foam Hand Exerciser, Forearm Wrist Grip, Finger Strength, 2 Pack Pink, only $7.67!
Perfect for Everyone – The Mind Reader hand grip strengthener forearm grip is perfect for improving power, speed, and strength in the wrists, fingers, and forearms. An ideal choice for rock climbers, tennis players, musicians, ping pong players, and more athletes to enhance the flexibility of fingers, forearms and wrists.

Stress Reliever – It has been scientifically proven that using a grip hand strengthener helps relieve stress. Squeezing the gripper is great for therapeutic reasons.

Comfortable Foam Handle – If other grippers are destroying your hand, switch over to the best hand grip on the market. Our hand trainer is built with the highest quality foam to ensure your hands are protected from excessive pain.

Rehab An Injury – When nursing a hand injury or dealing with a hand condition, doctors will recommend a hand gripper in order to rehabilitate and relieve pain. Using this grip strengthener to work out every day is beneficial to recover from a hand injury, rheumatoid arthritis, arthritis, carpal tunnel, tendovaginitis, fractured, broken wrist and tendon surgery.

Dimensions: 0. 75 (L) x 3. 5 (W) x 4. 75 (H)

Grip – Great for enhancing hand and finger grip strength as well as forearm and wrist function. An ideal and simple way to improve endurance, dexterity, muscular tone, and fine and gross motor skills.

Exercise Function – This hand strengthener is suitable for exercise, gym, home, workplace, or even when hitting the road. Use on an airplane, on the bus, in the train or even in the car when riding passenger.
Remember, Amazon prices can change at any time.
This post contains affiliate links.