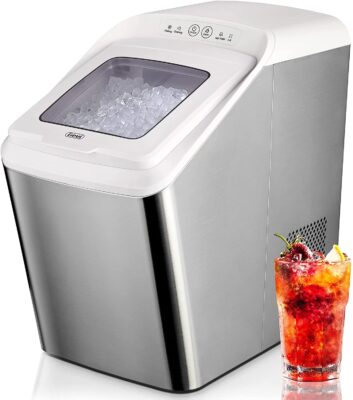 Nugget Ice, Sonic Ice, Pellet Ice, it goes by many other names, but everyone knows it's the most favorable ice type. Once Murphy said that "the magic is to have some ice left over once you've finished your drink for, um, snacking". Get the Gevi Countertop Nugget Ice Maker Machine, Stainless Steel Housing, Quiet Operation, Max 29Lbs/Day, Self Cleaning, Auto Water Refill, Portable Compact Design for Home Party Kitchen RV Camping (White) for only $399.49. Don't forget to clip the coupon to save a little more!
【🧊Nugget Ice】 Also known as Pebble ice or Chewblet ice. Unlike those hard ice cubes, crushed nugget ice is made not only to cool down drinks but also to retain its flavor and provide crunchy chewable joy. Before you have to drive to chain stores for it, while now you can have it directly from your countertop whenever you like!

【😄Never Run Out of Ice】 Max 29Lbs per 24 hours production capacity, plus an ice basket that holds up to 4.8Lbs and a 2.8L/3quarts water reservoir, you are never going to run out of ice.

【🔇Disturbance Free】 With upgraded ice making technology and muted exhaust fan, the ice machine only makes slight steady humming sound that's even less than 40db while working.

【💯Thoughtful & Compact Design】 Latest nugget ice making technology, stainless steels housing, oblique translucent lid, intelligible control panel, 34Lbs light weighted body, small footprint occupation and more. Every effort is made for fancy appearance and easy application.

【☝Easy to Use】 Self-explanatory control panel and intelligible indicators makes the ice maker easy to use, even for the young and old. Just plug in and play.

【🥂Safe and Healthy】 Equipped with automatic self-cleaning function. Run cleaning program periodically for healthy and fresh ice.

【💧Dual Water Refill Mode】 Gevi nugget ice maker machine provides two ways of water refill, water hookup and manual.
Remember, Amazon prices can change at any time.
This post contains affiliate links.