My little girl has wanted to be a mermaid since preschool. She is now 11 and this obsession has not waned. Judging by all the mermaid-themed tees and merchandise offered at The Children's Place, Justice, Old Navy and other popular kids' stores, she's clearly not the only one. If you've got a mermaid wannabe in your family, dive in to our definitive mermaid list.
From tails to tutorials.
1. Mermaid Linden's "Mermaid Minute." Mermaid Linden is a Professional Mermaid (yes, there is such a thing). She has a background in Children's Ocean Science Education, performs in aquariums and specializes in underwater stunt doubling for film, movies and television. She also has a series of FREE videos that are fun as well as educational. Your kids will have "fin" learning about the ocean and the critters that live in them in her series of Mermaid Minute videos on YouTube.
2. Your Mermaid Needs a Monofin! Before you take the plunge and buy one of those pricey "ofishal" swimmable mermaid tails, first try a monofin. They are much more affordable, easy to swim with and kids love them. If you have your own pool, you're more apt to get your money's worth. Mermaid Linden has her own monofin, made by Body Glove, available on Amazon for $29.99.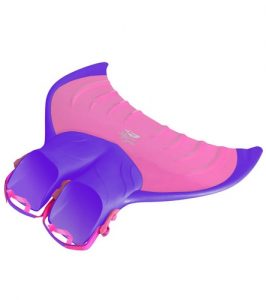 3. Knitted Mermaid Tail. This cuddly blanket is quite the catch at only $13.42. From Twinkle Deals. The site offers different styles, colors and sizes – including infant mermaid tails.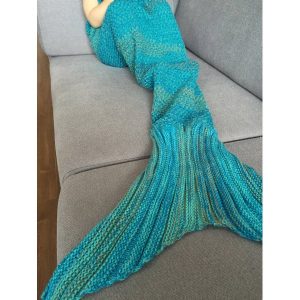 4. DIY Mermaid Tail Blanket. This YouTube tutorial shows you how to make your own mermaid tail blanket out of soft, comfy material. When you're snuggled up in this cozy tail, you won't need to fish for compliments. From Paula Stephânia.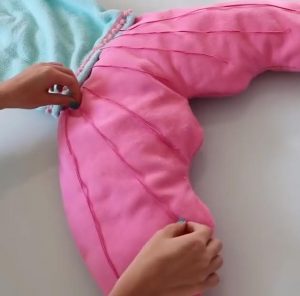 5. DIY Ocean Soap. OMC! How cute are these? To make your own glitter ocean soap, you need: clear glycerin soap, soap dye, toy sea animals, glitter, a silicone mold, a Pyrex measuring cup, and essential oils for the scent. Idea by A Pumpkin & A Princess.
6. YooHoo Mermaid Plushies. With their adorable big eyes, YooHoo and Friends plushies are so cute you'll fish you had them all!
7. Ocean in a Bottle. This fun craft will keep your little mermaid entertained, and it's made with only 3 ingredients: water, cooking oil and blue food coloring. For instructions, see Happy Hooligans.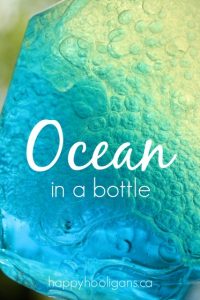 8. Mermaid School. While this may not be available in every area, a quick Google search showed these "schools" of fish… uh, mermaids… are popping up in more and more places. My daughter attended LA Mermaid School this year. The one day class was only $50 and she had a blast!
Do you know a wannabe mermaid?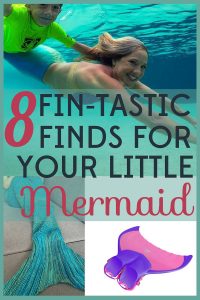 This post contains affiliate links.