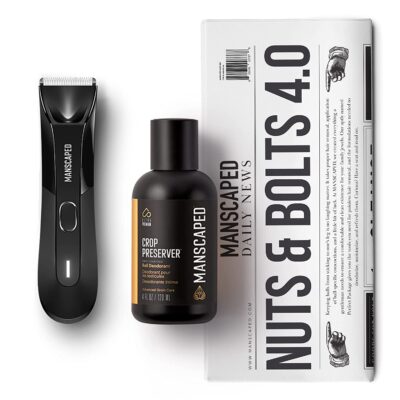 There's not much time left to save on gifts for Dad! Click here to save on Manscaped Personal Care Products! Our trimmers are made to be used in the shower, if you wish. Our trimmers meet the International Electrotechnical Commission (IEC) Standard 60529 rating of IPX7 and can withstand immersion in up to one meter of fresh water for up to 30 minutes. In addition, our trimmers meet the IEC's IPX4 rating which protects against splashing water from any direction. While our trimmers have been tested for a variety of conditions, there is a point at which an increased water depth may harm our trimmers. How do I safely use my trimmer in the shower? First, always make sure that your trimmer is disconnected from all charging devices. Next, use your trimmer as you normally would, and let the water from the shower wash away trimmed hair from yourself and the trimmer. We recommend using a gentle shower spray, as powerful jets of water over a prolonged period of time could damage your trimmer. When you have finished grooming, dry your trimmer with a soft cloth, and allow it to completely air dry before connecting it to any charging device. SkinSafe™ Technology does not guarantee cut protection. Get this MANSCAPED™ Nuts and Bolts 4.0, Men's Grooming Kit, Includes The Lawn Mower™ 4.0 Ergonomically Designed Powerful Waterproof Trimmer, The Crop Preserver™ Ball Deodorant and Disposable Shaving Mats for only $80 today!
MANSCAPED NUTS & BOLTS 4.0: We were so tired of trying to find the right tools for the job that we engineered and formulated our own. If you don't own this, you should, your significant other will love you forever. This essential grooming kit includes a specially designed electric trimmer, for hard-to-reach parts, an incredible, all-in-one, long-lasting ball deodorant and moisturizer as well as our famous Magic Mat, a unique shaving mat and great bathroom read.

THE LAWN MOWER 4.0: Welcome to the newest and latest in below-the-waist trimming. The Lawn Mower 4.0 from MANSCAPED is the only trimmer you need to keep your manhood looking trim, neat, and clean. Soft ceramic blades featuring advanced SkinSafe Technology ensures confidence while trimming below-the-waist.

THE CROP PRESERVER: A uniquely formulated ball deodorant and moisturizer. You just trimmed, now enhance and moisturize. Think of this as your suit of armor, anti-chafing lotion features ingredients to help you stay; smooth, fresh, velvety and more confident throughout the day. Whether you're traveling, working, or playing sports, the Crop Preserver has your nuts covered.

MAGIC MAT: Our incognito disposable shaving mats serve for practical and entertainment purposes. Utilize its handy functionality while grooming, then neatly discard or as a light entertaining bathroom read for all things manly.

GROIN, BODY & BACK: Our trimmers were designed for below-the-waist grooming but work great on your not so private parts too! With our SkinSafe replaceable blade, you can have multiple blades ready for all body areas with hair. Feel more confident, comfortable, and healthy with a total grooming experience.
This post contains affiliate links.