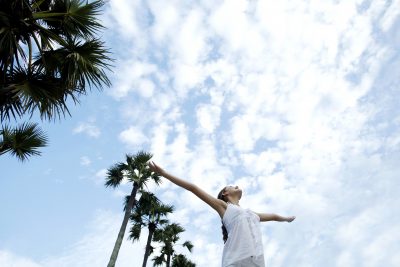 A few months ago, after a regular check-up, my doctor called to tell me that I had high cholesterol, something that I know runs in my family. He immediately wanted to put me on meds, but I was hesitant, having heard about myriad side effects from cholesterol-lowering drugs. I asked my doctor if I could have 6 months to try to lower my cholesterol naturally. He gave me 3. This is how I did it.
Lower your cholesterol without meds.
I had heard from various friends and family members that I should just go on medication for my cholesterol since I'm not (too) overweight, go to the gym regularly, and my diet doesn't seem to be a factor (I don't eat red meat or cheese). I was told that my cholesterol was high because of my age and my family history. Still, I was determined to give it my best shot.
As you read, keep in mind that I'm not a doctor, just a person who did her research – and had success. Nothing written here should be construed as medical advice. When in doubt, consult your physician.
Here was my strategy. First, I added:
Supplements.
Cholestoff. The nurse practitioner in my doctor's office recommended Cholestoff to me. This was a game changer. Made entirely of plant sterols and stanals, which are proven to reduce dietary cholesterol. 2 pills twice a day works like gangbusters. You can find a big, economy-sized bottle at Costco. If you take these pills religiously, you will see your cholesterol drop. Please note: For those who have trouble swallowing pills, these are rather large.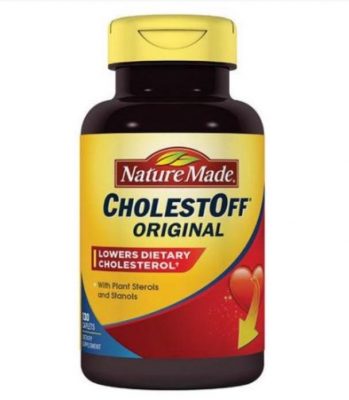 Red Yeast Rice pills. These are another natural supplement that I was also able to find at Costco. In Chinese medicine, red yeast rice is used to lower cholesterol, improve blood circulation, and improve digestion. Red yeast rice contains chemicals that are similar to prescription statin medications.
Resveratrol pills. Actually, my doctor recommended red wine, which contains resveratrol naturally, but I like white wine, not red. I decided on Resveratrol pills instead and found these at Costco. According to the Mayo Clinic, resveratrol antioxidants may increase levels of high-density lipoprotein (HDL) cholesterol (the "good" cholesterol) and protect against cholesterol buildup.
Additional supplements: I also added CoQ10 and fish oil pills daily, both of which have been found to help lower cholesterol naturally.
Foods: The "Yes" List.
Some great foods for lowering your cholesterol are:
Salmon
Nuts
Oatmeal
Dark chocolate
Beans (kidney, navy, pinto, black, chickpea or butter beans)
I did my best to try to eat these frequently, if not every day. Note: Not all oatmeal is created equal. Look for the less-sugary, natural brands. Also: Nuts can be very fattening, so don't go crazy! And as for chocolate, a tiny taste is best. I found Trader Joe's Dark Cacoa Nibs to be just what the doctor ordered. And eating a cup of any type of beans a day can lower cholesterol by as much as 10% in 6 weeks.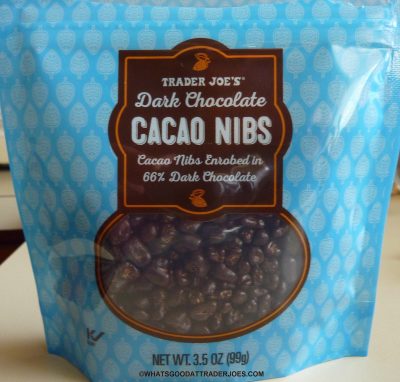 For liquids, choose:
Green tea
Dark grape juice
Pomegranate juice
Blueberry juice
Red wine
Green tea, if consumed plain, has zero calories, but the others do not, so moderation is key if you're worried about weight gain.
Foods: The "No" List.
Cheese
Butter
Eggs
Milk
Cream
Ice cream
Meats (eat less of these)
Fried foods
Suggestions: The more you can eat plant-based foods, the better. Try to reign in dairy and meat consumption. Even chicken and turkey contain cholesterol, not just red meats. Opt for margarine instead of butter. Egg whites or Egg Replacer instead of eggs. Cut back on foods like pizza.
What else can you do?
Start reading labels. Try to choose foods with zero cholesterol. For instance, 1 cup of lobster bisque soup has 100 mg of cholesterol whereas creamy butternut squash soup made without butter has 0 mg cholesterol.
Eat at home to control your ingredients. But if you plan on eating out, ask for a nutrition guide! This is a must because you can't just "guess" that an El Torito Grilled Chicken Quesadilla has 481 mgs of cholesterol. If the restaurant's nutrition guide doesn't include cholesterol, go somewhere else!
Exercise is helpful. But you already knew this.
Weight loss helps. Easier said than done. (I think I actually gained weight, due to binging on nuts.)
Stick to it!
Lowering your cholesterol is not hard if you are willing to adjust your diet and take your supplements. If your New Year's Resolution is to lower your cholesterol, this "diet" is something you can stick to and see results. I am living proof! After 3 months, I took another blood test and my doctor told me that my cholesterol was normal and I didn't need to go on meds. After a few slip-ups over Christmas (it's hard to stay on any diet during the holidays!), I am back to taking my supplements and doing my best to eat well so that my cholesterol levels don't spike again.
Do you have high cholesterol?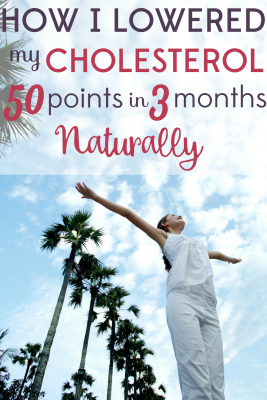 This post contains affiliate links.