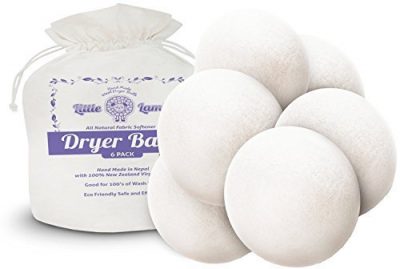 If you read our Laundry Hacks post you know that we love wool dryer balls. They soften your clothes and cut drying times! This 6 pack of Little Lamb Wool Dryer Balls is at its lowest price ever: only $11.99!
A much better option for you and your family than Liquid Fabric Softeners which all have harsh chemicals / synthetics. 100% natural, perfect for babies and sensitive skin

Reduces your drying time by up to 25% for larger loads and up to 40% for smaller loads. Save hundreds of dollars per year

100% Premium Organic from New Zealand. Lasts for more than 1500 washes

Completely Natural and Hypoallergenic

Cut costs, protects your family and helps keep our water supplies clean. Better for the environment and for your family
Remember, Amazon prices can change at any time!
This post contains affiliate links.