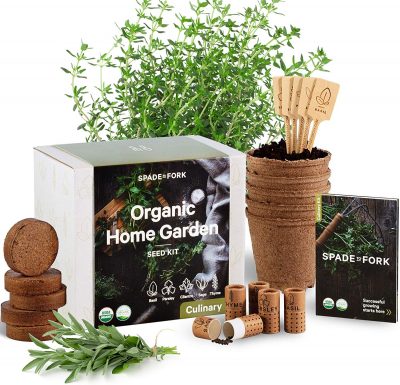 Act quickly on this deal, it's a Lightning Deal price that's already selling out! Click here to order the Indoor Herb Garden Starter Kit – Certified 100% USDA Organic Non GMO – Potting Soil, Peat Pots, 5 Herb Seed Basil, Cilantro, Parsley, Sage, Thyme – DIY Kitchen Grow Kit for Growing Herb Seeds Indoors for only $16.97! Each and every one of our indoor grow kit boxes contains the seeds of a quiet revolution to make food personal again. There is nothing better than fresh food created in your own home. Thank you for your interest in our growing family–you are always welcome!
SPADE TO FORK KITS – Our company is family owned and operated right here on our 40 acre farm in rural Oregon. Each Spade To Fork plant sprouting box set contains 5 types of Certified USDA Organic Non GMO seeds, including Italian Large Leaf Basil, Coriander Cilantro (slow bolt), Peione Parsley, Broad Leaf Sage and Thyme; 5 Certified USDA Organic compostable peat pots; 5 Certified USDA Organic rich potting soil discs; 5 custom wood burned plant markers; our beautiful and helpful 10pg growing guide

ENTIRE KIT IS 100% CERTIFIED USDA ORGANIC – Most kitchen herb garden germination kits only include organic seeds, but their soil and pots are sometimes treated with harmful chemicals and pesticides. We are strong believers in sustainable, eco friendly, 100% organic systems that are safe for our families and women, men, kids and every grower. Our DIY culinary planting system is fully and proudly certified right here in Oregon by the USDA.

THE PERFECT SPECIAL GIFT – Our indoor herb growing kit makes a fun gift for virtually anyone — man or woman, vegetarian or vegans, mom on mothers day, dad on fathers day, best kitchen gifts or housewarming present. Our kits grow perfectly on a windowsill, in an apartment or condominium, in a personal outdoor greenhouse, or in your home window sill, balcony or even countertop.

OUR 100% GROW GUARANTEE – We are real people with big hearts, and we love our fellow gardeners. If you need help we are here for you. Whether that means a refund or a replacement, we have your back, no questions asked, every single time.

BRING YOUR KITCHEN TO LIFE! – Every kitchen looks better with fresh herbs and plants on the countertops. Our decorative kit with heirloom seeds is a unique way to add food to your planters and spice up your mealtime with a little gourmet flavor from your own home gardens!
Remember, Amazon prices can change at any time.
This post contains affiliate links.