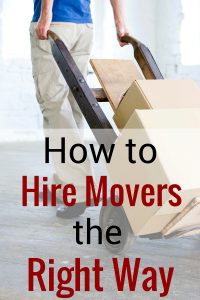 I'm still ticked off at the moving company I hired to move my family across the country that pressured me to lower my box estimate, hiding the fact that any boxes above my initial estimate were charged at a higher rate. But my terrible experience has led to this list of tips to hire movers without getting screwed, like I did.
How to get a moving quote, questions to ask before you hire a moving company, and red flags to watch for.
Tip: Lower the cost of moving across the country by trashing these 65 things first. Also, here's where you can find free moving boxes.
How to get a quote
Ask friends if they have recommendations
Start with quotes via email or over the phone, but keep in mind that nothing counts unless you get it in writing
Gather as much hard information about your move as possible, including

your move dates
how flexible your move dates are
how many large pieces of furniture and appliances you are moving
how many boxes you have (estimate 30 per room)
where you are moving to
when you want your stuff to arrive
how many rooms you are moving

Get at least three quotes in writing before hiring a company.

Ask if they are a broker or the actual moving company. A broker is a middleman that arranges initial details of the move and takes a fee for their work. Avoid middlemen to save money. Also, a broker is not a representative of the actual moving company, so they may not be able to answer important questions about the contract.
Get each quote in writing via email or fax or snail mail. If they refuse to send you paperwork, do not work with them.
Do not share your credit card information while getting a quote.
Avoid giving a phone number and your primary email if you can. The best way to do this is to call them directly. Look for a toll free number on their website.Tell them you want the quote before you share any personal information. You have their number and will call if interested.
If the quote for the specific addresses you are moving from and to? If not, by how much could the quote increase by?
If you don't know exactly where you are moving to, how much could the quote increase by?
Is the quoted price binding? What could make the price increase? Decrease?
Before you hang up, ask for the quote to be emailed to you so you have a written copy.
Tip: Use Real Simple's moving checklist to stay on top of your move. Mayflower also has a great moving checklist that is even more detailed and includes a list of who to contact about your change of address.
Questions to ask before hiring a moving company
How much are extra boxes and furniture charged?
What happens if my stuff arrives outside of the estimate provided?
If I'm not able to receiving my delivery, how much will I be charged per day until I can pick it up?
What insurance is included?
How much does it cost for additional insurance?
Are there any items that are prohibited from being shipped, like water mattresses or handguns?
Is the fee fixed? What other charges might arise?
What is the highest price you might end up paying for this move?
Will you pack your stuff or will the movers?
How many men will be sent to move your boxes?
Will the movers provide blankets to protect furniture? How much extra will this cost?
How long will it take them to pack up everything?
Will your stuff be unpacked and re-packed into another truck? (This can increase damage)
Are mattress covers provided? How much extra do they cost?
Are extra boxes provided? How much do they cost each?
Is the moving truck an air ride or a spring trailer? Air rides are smoother, which means your stuff won't bounce, and perhaps break, as much.
If a deposit is required, is it refundable? Can you put it on your credit card in case you need to contest the charge down the road (no pun intended!)
What forms of payment are accepted? Never work with a company that requires payment by cash or check.
WARNING: Whatever a moving company says over the phone is talk. Get everything in writing or via email. You must review a contract before paying a cent. Moving companies are in the business of making money and will tell you what you want to hear to get you to pay a deposit and sign a contract. 
Red flags to look for in the contract
Overages. I got screwed on this one so it is particularly close to my heart. Are there any clauses about the cost of each packed box going up if you have more boxes than your original estimate? I didn't read the contract carefully enough and got slammed with huge fees because I had about 70 more boxes than my original estimate of 40. Those 70 extra boxes had a higher – much higher – price than the first 40.
Storage fees. Are there storage fees if for some reason you are not able to receive your boxes and furniture? Is the charge by the day or the week? Are there fees to get your possessions delivered to your place if they were put in storage? Once you are able to receive your stuff, how soon will items be delivered?
Payment. Companies that only accept check or cash. Don't work with these companies! Above board companies will accept credit cards, which gives you some limited options if the situation turns messy.
Deposit. Is a deposit required before you see a contract? This is a big no-no! Assume you will NOT get the deposit back, no matter how nice the customer service agent sounds.
Defensiveness. When asking questions, how does the customer service respond? Are they helpful or defensive? If they don't have answers, do they get back to you once they've tracked down the person who has the answer? Or do they let details slip through the cracks?
What have you learned from hiring movers?