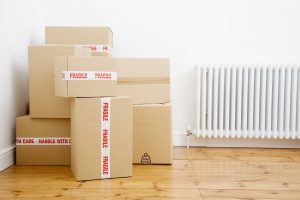 Who says airline baggage fees are excessive? I carefully considered all my options for moving across the country from Los Angeles to Rhode Island and calculated that flying was cheaper than professional movers, Uhaul, and the United States Postal Service. Had I needed to move furniture as well as boxes, I would have chosen one of the moving companies rather than flying. Don't believe me? Check my math below.
Movers
Pros: All I have to do is pack. The movers load up my stuff and unpack it.
Cons: Dealing with skeezy movers, who may charge me a higher rate for any boxes 
above and beyond my initial estimate. Plus, the pick up window is two weeks and the delivery window is four weeks. I called a national moving company for a quote to move 13 large boxes
under 40 pounds each.
$623.43, which included a fuel fee, stairs fee, and an administrative fee.
Uhaul
Pros: Getting to see the country with a friend. Cons: Molding butt to seat over 3,560 miles.
$2,519 = an 11-day rental for a 10-foot truck with up to 3,560 miles costs
(Extra mile fee: $.40 per mile over 3,560)
$848 = Gas: 3,560 miles in a 12 miles per gallon truck at $2.86/gal (average price of regular gas according to AAA)
$500 = 5-nights hotel
$150 = 6-nights camping passes
$4,017 = total
U.S. Postal Service
Pros: Boxes delivered to my new doorstep. Cons: Stuff doesn't arrive for eight days and may be damaged from the rough ride or heat.
$559 = parcel post rate for 13 boxes each weighing up to 40 pounds
$36 = Insurance of $2.75 for up to $200 for each box
$595 = total
Flying on Southwest
(Bags on Virgin America, which has limited routes, are just $25 per bag, up to 50 pounds per bag, up to 10 bags. That's even better than Southwest!)
Pros: Stuff arrives with me. Cons: Lugging boxes to and from airport.
$0 = boxes 1-2, which are free on Southwest
$250 = boxes 3-7 which are $50 per as long as they weigh less than 50 pounds each
$0 = boxes 8-13, which a friend flew across for me for free using his elevated airline status perks
$40 = sky cap tip checking me in in 10 minutes flat
$20 = shuttle driver tip for loading and unloading boxes
$310 = total
Have you moved across the country? How much did it cost?
If you had to move across the country, how would you do it?