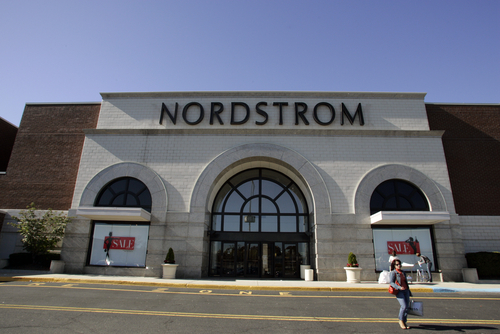 Saving money at Nordstrom
turned out to be the most common answer when we asked readers on our Facebook page what store they wished they could afford. Believe it or not you CAN shop for luxe products at discount prices at Nordstrom.
Here are 13 tips to help you save money at Nordstrom.
1. Get the Nordstrom card. You may think I'm crazy for suggesting you sign up for a store card to save money, but hear me out. For every purchase you make on your card, you'll earn two points for every net dollar. Purchases online and at Nordstrom Rack also count as long as you use the Nordstrom card. For every 2,000 points earned, you'll receive a $20 Nordstrom Note. That's free money you can use for future purchases! You don't even have to spend $1,000 at the high-end store to earn this reward (see tip No. 2). Read about Nordstrom's Notes System
.
Tip: The trick to shopping with the Nordstrom credit card is paying off the entire balance so you don't accrue interests, while earning rewards. Don't want to risk paying interest? Nordstrom also carries a debit card that's hooked up to your checking account and earns rewards.
2. Shop ONLY on special days. Nordstrom has days when customers can earn double or triple points on purchases. Check out the bonus points calendar
and shop ONLY on those days to earn points faster.
3. Opt in to get emails and invites. Nordstrom will send you private invites to shop before others or to their Private Holiday Shopping Party. The invite usually include a discount or Nordstrom Notes.
4. Earn $20 for referring friends. Nordstrom will reward you for having a friend open a credit or debit account. Your friend can then earn $20 Nordstrom Notes by referring someone else.
5. Score free samples on Sample Saturdays. Certain Nordstrom locations give out freebies on Saturday mornings while supplies last. You can score beauty products, or even a mini-facial. These events are promoted through Nordstrom's social media channels.
6. Write reviews at Nordstrom.com. Many times you can get rewarded for dropping a line about your latest purchase. I recently saw a contest to win a $500 gift card just for reviewing a product! The winners are chosen randomly so luck has to be on your side to win.
7. Shop for discounted Nordstrom gift cards. Sites like Cardpool
and Raise
sell gift cards at less than face value.
8. Shop the Last Chance store. It's in Phoenix, Arizona — so this money-saving tip doesn't apply to everyone. The store carries returned and overstocked Nordstrom items. The merchandise is sold as-is with no additional discounts for damaged items. Sales are final and there are no returns or exchanges. Note, some of the merchandise has been previously worn so make sure to check items before purchasing. This is because Nordstrom is known for having the most lenient return policy. They will take back worn clothes even if it's been sitting in your closet for up to a year.
9. Shop Nordstrom Rack
. Nordstrom Rack is the off-price division of Nordstrom. You'll find the same brands and merchandise sold in stores and online at 50-60% off original Nordstrom prices. New merchandise arrives daily and styles disappear quickly. So if you find a deal don't pass it up as it may not be there next time.
10. Look for free online coupons. If you like to shop online, make sure you are shopping through a site like Ebates, where you can earn a percentage back from your purchase. Don't forget to use a coupon code when checking out to cut down the cost even further.
11. Shop the anniversary sale. Once a year Nordstrom holds the store-wide sale (though some items are excluded). The anniversary sale is held in July. This year, it starts July 19!
12. Shop the sample shoe sales. This is particularly helpful for those of us with small feet as sample sizes range from 5 to 7. Ask your Nordstrom personal stylist (trust me, it really pays to build a relationship with a stylist) when your local store holds these sales. Be forewarned, it will be complete chaos.
13. Ask for a price match. Most of the brands at Nordstrom are also carried at Bloomingdale's so make sure to compare prices. If you find out you've paid more at Nordstrom, ask your personal stylist or sales associate for a price match.
How do you save money at Nordstrom?
This post contains affiliate links.