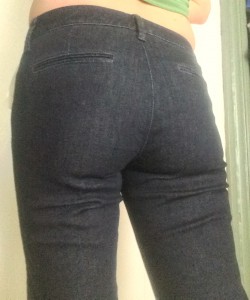 When I showed pics of me in my new jeans to my sister, she asked if I was wearing padded undies. That's how good these jeans make my tush look. (Yes! That is my derriere in the picture!!!) The value of a perfectly fitting pair of jeans is – well, invaluable. No shopping for hours on end, no buying pairs that sorta fit only to regret it. Just a pair that make you look and feel your best.
How did I come across these jeans? I used SearchByInseam.com, a site that helps you find a better fit for jeans and pants. It doesn't cost anything, and you can use all the coupons and discounts you have when you finally find the perfect pair.
How I found jeans that make my rear look phenomenal
What is SearchByInseam's secret to finding you perfect-fitting jeans and pants online? (Because really, who has time to shop in the store anymore?)
It only takes an extra four minutes to set up. Here's the trick. Are you ready?
You have to measure your inseam.
What is an inseam?

How To Measure Your Inseam
Start with a pair of pants you already have that fit you well and lay them flat on the floor.
Carefully measure the length from the

crotch seam

to the bottom of the leg. Finding a tape measurer may be the longest step in this process. Mine was in the basement.
THIS NUMBER IS YOUR INSEAM. I measured three times for better accuracy. Use this number to help you choose your next pair of great-fitting pants.
Three tips for an even better fit
Tip: Add 1/2 inch to your inseam if you'll machine wash them to leave room for shrinkage.
Tip: Remember to take into account the height of heel you'll most likely be wearing with the new pair.
Tip: We've also found that with corduroy pants, we need an inseam 1/2 to 1 inch longer than normal.
I don't know any other site that let's you do this. Which is just part of the reason why this site is awesome. You can also use search filters that are designed to get you the best fit, like rise, and brand. I know certain brands will NEVER fit me, and others that make my body shine. Price is another filter.
When you find a pair you like, click to go to the retailer website. You don't actually buy anything from SearchByInseam, which makes a small commission if you end up buying something. You can plug in whatever coupons and discounts you can get your hands on.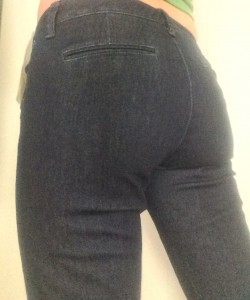 I narrowed it down to two pairs off the bat because there weren't a ton of choices for dark jeans with a 34 inch inseam. (I'm 5″9′ and like to wear my pants long). Then I noticed that one of the two pairs had such tiny rear pockets – really there is just a slit for the opening – and I was sold.
Here is the secret to making your arse look great in jeans
If you want to make your bottom look smaller, get jeans with BIG pockets. Your tush will look smaller by comparison.
If you want your bottom to look bigger, as I do, get jeans with small pockets.
So you can see why the pair with slits for back pockets appealed to me. Here's another shot of me in my new jeans. How do you think they look?
Oh, and I snagged a free shipping and 40% off coupon from Banana Republic, where I bought these jeans. They have a "trouser" fit, which means they are tailored and have a fancy cuff at the bottom.
Okay, so more about how my butt looks
Fantastic!
Curvy!
Bigger than it actually is!
I received compensation to experience SearchByInseam. My opinions are entirely my own and none of this post was read or edited by the site before publication.