As Halloween approaches, we start thinking about pumpkin patches, trick-or-treating, "fun size" candy bars and, um, humiliating our pets by dressing them in silly costumes. But what's really embarrassing is how much some people pay at pet stores for these little strips of fabric that are cheaply sewn together and called "costumes." Okay, so some of them are really cute. But if you're on a budget and even a bit creative, you can throw together some conversation-worthy costumes you won't find in any pet store. No sewing required!
Here are 11 easy DIY cat Halloween costumes (+ a cat video):
1. Spiderweb Costume. I went to Michael's and picked up this cool black spiderweb decoration. I used a coupon, so it only cost $3.99. I cut out the middle, stuck it around my kitty's head, and that was that! And I still have 3/4 left to use for decoration around the house.
2. Eaten by a Shark Costume. Internet sensation Nala Cat has amassed more than a million followers on Instagram. And we can bet part of the reason that the World's Most Photogenic cat got so popular is adorable photos like this one in her $30 knitted Shark Hat. Well, you can make your own kitty Shark Hat for a fraction of the price. A trip to any bargain store is sure to yield some kind of soft hat. Can't find grey? Don't worry, if it's blue or green or purple, then it can be a cute Monster Hat. Sew (if you must) or glue a couple of buttons on the top, glue some white felt "teeth" under the top and add some grey felt "fins" to the back with a few simple stitches.
3. Lady Gaga Costume. Ridiculous? Sure, but not anymore than Lady Gaga's famous feathered headwear. At The 99 Cents Only Store, I was able to find black and orange feather boas, but not white. So I had to splurge at Michael's. With a coupon, I was able to get a white boa for $5.39. I had some cardboard which I cut into a wreath-shape, then glued the boa to it. After it dried, I stapled the stray pieces to the cardboard.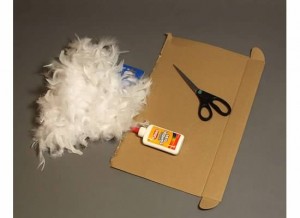 4. Keyboard Cat costume. Internet Icon Keyboard Cat has the second biggest viral video of all time, according to Current TV. While wrangling your cat into a toddler's blue shirt won't guarantee he'll become a famous piano-playing sensation, it's sure to give you a good laugh, or at least a cute photo opp. And if you really want to look authentic, pick up a toy keyboard at a thrift store or yard sale to complete the look.
5. Long Legs. Internet-famous cat Sam Has Eyebrows is known world-over for his worried look. But it was this recent photo of him posted online that really made us LOL. Take a pair of skinny jeans, leggings or tights, lay them on the floor, then stick boots or shoes on the end. Lastly, stuff your feline inside.
6. Nyan Cat Costume. The hugely popular Internet meme has led to a wealth of merchandise and inspired hundreds of Nyan Cats IRL ("In Real Life"). Now your cat can be a Nyan Cat, too. I went to Michael's Arts & Crafts and bought some felt squares for 26 cents a piece with a coupon, a pink glittery sticky foam sheet for 71 cents with coupon, and a rainbow patterned sheet of duct-tape material for $1.60 with coupon. I cut the felt into the famous Pop-Tart shape, then glued the pieces together.
7. In-Bread Cat Costume. Cat-breading started with a meme, then entire websites and Facebook pages popped up devoted to the trend. Real bread can crumble and make a mess. But take two 26 cent (with coupon) felt squares from Michael's and some thin cardboard in between for stiffness and cut and glue them together. Any way you slice it, you'll have a costume that brings forth many a smile (although not from your cat, who will probably be plotting to kill you after all this).
8. Martini Glass Costume. Have a "cone of shame" lying around? I quickly "doctored" ours up with an festive cocktail pick. You, too, can get creative. Use a frilled toothpick, a small green pompom on the end of a toothpick, or a lemon wedge made from yellow felt.
9. Grumpy Cat face. Some felt, fabric paint and a wooden stick are all you need to put together this world-famous frown.
10. Flower Costume. In the 80% off Clearance bin at Michael's, I found these two heavy felt flowers for 31 cents apiece. I cut a slightly bigger opening in the middle, then glued them together. You can probably duplicate the flowers with felt and some cardboard in between.
11. Beware of Dog Costume. I found this sign at The 99 Cents Only Store, along with a pair of brown children's earmuffs that I was certain would do the trick. Well, the earmuffs turned out to be a total FAIL – they were too large for even my cat's big head and wound up looking more like muttonchops. But a quick snip of some black felt, which I glued to the front of the sign, saved the day.
Lastly, to put you in the Halloween Spirit – a video from a cat who would never put up with any of this nonsense:  Henri Le Chat Noir in The Haunting (L'Haunting).
What are you dressing your cat up as this Halloween?