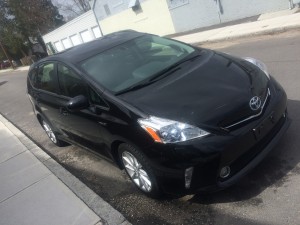 I bought a new-to-me car Sunday that I saved more than $1,000 dollars on, thanks to a bit of research, a car-smart friend, and a seller who may not have had other options. I decided to buy a Prius V for the superior gas mileage (42 by the book, 40-41 by user experience), safety features, and roomy interior. But price was also a major concern.
TIP => Save $1,000 of a new car using only email
A brand new 2015 Prius V costs $30,391. I bought mine for $17,000.
KBB prices the 2012 Prius V Five I bought for $18,097-$18,478. Here's how I saved more than $1,000 off that. Not to mention the $13,000 I saved for buying a used car from a private party! ($30,000 new car price – $17,000 I paid for a used car = $13,000 savings)
TIP => How to NOT get screwed when you buy a used car
Research

Weeks before I saw the car, I started my research. I drove another Prius V so I knew how it handled and what the interior space was like.
I compared KBB values and looked at what real people were paying for the same car through a USAA database available to members.
I emailed extensively with the owner, asking for extra pictures of any wear and tear. The last thing I wanted was to get out there and find out the car was in worse condition that the seller let on.
I asked for the VIN number so I could run a VIN check, which shows any accidents that an insurance company was involved with.
I asked to test drive the car and take it to a mechanic of my choice for a full inspection.
I asked if the seller was comfortable with a price range of $18,000-$18,500, assuming the car was in excellent mechanical condition.
When she agreed to that price range, I stipulated that if the mechanic found anything wrong with the car, the purchase price would be lowered by the amount of the repairs.
I set a date to visit the car and made an appointment with the mechanic that same day.
Because the seller was located a 2.5 hour drive from me, I set up insurance coverage in case I ended up buying the car.

Inspection

I arranged to have the car inspected at a local mechanic's and cleared the price ahead of time and what it included.
I brought along a car-savvy friend who took a much closer look at the car than I did. He noticed a small ding in the body, scrapes on the front underside of the car, and minor scrapes on all four corners of the car. Clearly, the driver brushed up against things and scraped the bottom of the car on driveways.
I also noticed dog hair and a little dirt in the interior. The seller said she had it cleaned, but clearly no one thought to vacuum it.
When the mechanic said the back brakes and rotors needed to be replaced immediately and the front brakes and rotors needed to be replaced soon, I got a printed report showing the estimated cost.
I also got a written estimate for the price of four new tires, installed. The car had almost-new snow tires, but in April that doesn't do me any good.

Negotiation

On the drive from the mechanic's to the seller's house, my car-savvy friend and I discussed price. What was my top and bottom price I would pay? What price would I be happy with? Setting concrete parameters helped me frame the negotiation with the seller.
When we got back to the seller's house, we showed her the mechanics report. We showed her the tire estimate. They added up to $1,400. Then I laid it on her. "We talked about $18,000 as a price," I said slowly. (Note I didn't mention the higher end of the range we discussed.) "The car needs $1,400 of work, so that brings us to $16,500-$17,000." Then I let it sit.
She didn't freak out, she went over the numbers out loud.
We slowly walked around the car, pointing out the (minor) body damage. I mentioned the dog hair and dirt inside. Then I walked away from the car and went back to the car we arrived in. Physically, I sent the message that I was okay if the deal fell through.
I didn't mention that she had already told me about the snow tires so that the cost of new tires shouldn't be a surprise.
I didn't mention that only the back brakes and rotors had to be fixed immediately, which would only cost me $400.
I didn't mention that she had told me that she had a dog so a few dog hairs shouldn't have been a surprise.
She went inside to call her husband on the phone and talk about the price. She came back out and said her husband didn't want to budge, but that she could appreciate the work it needed and would sell it for $17,000.
I had set my max price at $17,300 and my target for $17,000.
After thinking about it for a quick minute, we shook on it, filled out the paperwork, and I drove away in my brand new-to-me 2012 Prius V Five. Score!
Are you in the market for a new or new-to-me car?