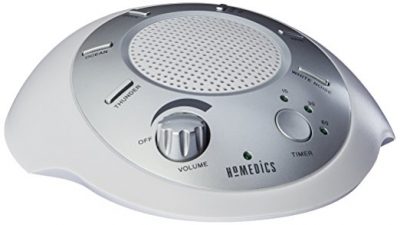 Today, Amazon is helping you get a better night's sleep! Right now, get the HoMedics White Noise Machine &Sleep Sound Machine for only $14.99. That's a discount of 40%! Interested in a little something else to help your sleep? Click here to check out today's deal on Aleve PM to get a great night's sleep!
6 Soothing Sounds: Choose from White Noise, Thunder, Ocean, Rain, Summer Night and Brook. The SoundSpa's sounds are engineered to mimic the natural environment to provide the most relaxing experience possible

Variety of Uses: People love using the SoundSpa to help them fall asleep, but you can also use it to tune out distractions, or boost your focus while you study or work. Different sounds inspire different moods and there's something for everyone

Auto-off Timer: The auto-off timer can be set for 15, 30 or 60 minutes to conserve energy. This is a great option for you or your little ones

Adjustable Volume: The SoundSpa includes an adjustable volume control so you can get the sound just right

Great for Travel: The Sleep Sound Machine is small and lightweight. It easily fits into a bag or suitcase making it the perfect travel companion. Plug your SoundSpa into a wall outlet or take it on the go. (4 'AA' batteries not included)
This post contains affiliate links.