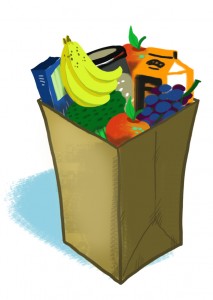 My Coupon Database searches dozens of sites for all grocery and drugstore coupons available. New coupons added weekly!
ShopRite – Living Rich With Coupons posted this week's ShopRite coupons. Highlights include Fleischmann's Simply Homemade No Knead Bread Mix for as low as FREE after stacked coupons, Wholly Salsa for as low as $.16, Nestle Carnation Evaporated Milk for as low as $.49 when you buy two, and College Inn Broth Cartons for as low as $.90 after coupon.
Albertsons – Get the full list of Albertsons coupons including Pantene Shampoo or Conditioner or Styling Products for as low as $.75 when you buy two, Dole Canned Pineapple for as low as $.50 when you buy four,  Green Giant Canned Veggies for $.50 each when you buy six, and Totino's Party Pizza or Pizza Rolls for as low as $.65 each when you buy five and use SavingStar with coupon.
Publix — Southern Savers posted this week's Publix grocery coupons. Highlights include Smithfield Ham Slice for FREE, Sambazon Superfood Juice or Smoothie for FREE after coupons, Muir Glen Tomato Paste for $.07, and Zest Bar Soap for $.99.
Ralphs – Get all the Ralphs coupons later today.
Safeway/Vons – Get all the Safeway/Vons coupons and deals later today.
Stop & Shop — Look for this week's Stop & Shop coupons on Friday, the beginning of their sale cycle. Or shop by Thursday for this week's sale, including Mann's Slaw for as low as Free after coupon if it prints with $0.55 off any 1, Jell-O Pudding or Gelatin Boxes for as low as $.43 each after coupon when you buy three, Sunbelt Bakery Granola Bars for as low as $.90 each after coupon.
Whole Foods – Get Whole Foods coupons including Organic Fuji Apples for $1.99/lb, Rudi's Organic Bread for $3.99, Earthbound Farm Organic Baby Spinach for $1.74 each after coupons, and Nature's Own Oatmeal Toasters for $2.54 each after coupon. Our tips for saving money at Whole Foods.
Kroger – Faithful Provisions shares this week's Kroger grocery coupons, including Pillsbury Crescent or Cinnamon Rolls for as low as $.89, Purity or Turkey Hill Ice Cream for as low as $.99, Carnation Evaporated Milk for $.19 ea/ wyb 2, or FREE if you're buying canned pumpkin, and Field or Fischer's Bologna or Hot Dogs for $.25.
Fresh n Easy – The Deal Fanatic posts this week's Fresh n Easy grocery coupons including Jennie-O frozen turkeys for $0.47 per lb (with $30 additional purchase, limit 1), F&E chicken breast family pack for $1.99 per lb, two F&E pumpkin bread or gingerbread mix for $5, and F&E broth for $1.99.
Winn Dixie — My Baton Rouge Mommy sharesWinn Dixie grocery deals including Green Giant vegetables for $.70, Pepperidge Farm 5 Cheese bread or 9ct pepperoni or deluxe Bagel Bites for as low as $1.35 each, Tostitos chips for $2, Duke's mayonnaise for $2.60 each.
Wegman's – This week's Wegmans coupons and deals include Muir Glen Organic Tomato Sauce for FREE, International Delight Iced Coffee for $1.99, Barilla Whole Grain Penne for $.99 each when you buy two, and Quaker Real Medley for $.50.
Harris Teeter — This week's Harris Teeter grocery coupons will be up later today.
Trader Joe's – Healthy Life Deals shares this week's Trader Joe's deals, including Morningstar Bacon for $2.89 each when you buy two, Trader Joe's Organic Rice Microwave Bowl for $1.69, Hansen Soda for $1.69, and McCanns Irish Oatmeal for $1.99.
Giant Eagle — Lady Savings shares this week's Giant Eagle deals later today.
NEX – Military Wives Saving posts the best grocery deals at the Navy Exchange each week.
Grocery coupons – Get the latest grocery coupons from Coupons.com.
Redplum coupons – Get the latest coupons from Redplum.
New to coupons? Check out Bargain Babe's post on coupon clipping basics. If you want to take advantage of these deals, make sure to save the coupon inserts you receive in the mail or with your Sunday newspaper. Here's a great suggestion for how to handle coupon organization.
This post is copyrighted by BargainBabe.com. Any other site posting this content is violating the DMCA.