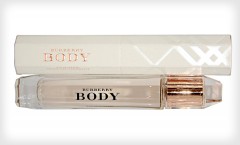 I've rounded up some of the best Groupons available to gift this holiday season. They are all online deals so you can buy and use them no matter where you live. The expiration dates vary and quantities may be limited so buy your Groupon vouchers today!
For her
Burberry Body EDP Spray – This 2.8-ounce eau de parfum Burberry spray is a floral feminine fragrance featuring notes of green absinthe, peach, rose absolute, and vanilla. Pay only $49 (originally $95).
Bumble and Bumble – I'm a BIG fan of Bumble and Bumble products, but they're pricey! Pay $25 (org. $50) for an 8-oz bottle of Styling lotion and one of Styling creme. These products smell amazing.
Schoodie Hooded Scarf – Pay $20 (org. $42) for a Schoodie Double- or a Ribbed-Knit hooded scarf. There are different colors available.
FTD – Buy loved ones flowers and holiday gifts for only $15 (org. $30). Holiday-themed blossoms are arranged and delivered by artisan florists or shipped in elegant gift boxes.
For him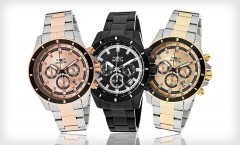 Invicta Men's Pro Diver Watch
– This
men's watch
is available in three styles. Get it for only $87 (org. $895). The watch can withstand aquatic plunges of up to 660 feet and it also includes a date function.
One Pair of Totes Men's Slippers
– Gift the men in your life a pair of
Totes Men's Slippers
. There are multiple styles and options available. Pay only $16 (org. $36).
Fanatics – Have a sports fan in your life? Buy apparel and accessories for women, men, and kids from 700+ college and professional football, baseball, basketball, hockey, and soccer teams. Pay $10 for $20 worth of licensed sports apparel.
ESPN Magazine subscription – Keep sport fans up-to-date with a "ESPN The Magazine" subscription. Pay $13 (orig. $29.95) for the magazine subscription and water bottle.
For them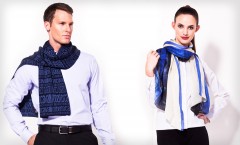 Roberto Cavalli Scarves – Roberto Cavalli men's wool scarves and women's silk scarves and stoles, starting at $59 (org. $322). There are 18 options available.
AllPosters.com – Choose from hundreds of thousands of entertainment and images of fine art on posters, stretched canvas, and art prints. There are two options available. Pay $15 for $30 worth of posters and artwork, or pay $24 for $50 worth.
Threadless – Buy organic and standard cotton shirts, dresses, and hoodies adorned with colorful custom designs submitted by international artists. Two options available: Pay $15 for $30 worth of tees and hoodies, or $19 for $40 worth.
Moleskin – Iconic notebook-maker Moleskine introduces photo-book designs in customizable tomes with digital versions to accommodate videos. Pay $30 (org. $70).
For foodies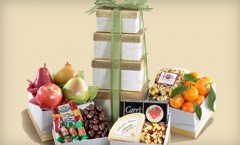 Cherry Moon Farms – Buy seasonal sweets including hand-decorated cookies, truffles, and dipped berries in gift and fruit baskets. Pay $15 for $30 worth.
Wine – Select award-winning wines from independent winemakers. Pay $59 for $150 worth of wine with shipping.
Ruth's Brownie Kitchen – Gift baked goods whipped up by chefs. Brownies, cookies, and biscottis are made using fine Valrhona chocolate and organic ingredients from local farms. Yum! There are two options: Pay $15for $30 worth of baked goods, or $29 for $60 worth.
Negresco Palace – Pay $49 (org. $100) for a gift box filled with French delicacies such as chocolate truffles, foie gras, macaroons, and fine coffees and teas.
For kids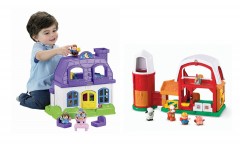 Fisher-Price Little People Play Sets – Pay $27 for an Animal Sounds Farm Fisher-Price Little People Play Set ($43 list price) with shipping included ($7.99 value; $50.99 total value), or $32 for a Happy Sounds Home Fisher-Price Little People Play Set ($43 list price) with shipping included ($7.99 value; $50.99 total value).
Children's Smart Balance Bike
– Pay $49 (org. $120) for a beginner bike. The
bike
is safe for novice riders aged 2 and older.
Barbie Makeup Cases
– Girls can begin experimenting with makeup with these cases. There are two different
makeup cases
. Either pay $19 for Barbie's Wings of Beauty set (org. $24.99), or $24 for Barbie's Fab Fashion Case (org. $29.99). Each set is filled with different items.
Smart Ass the Board Game
– Win the "smart ass" title by defeating players by answering the most trivia questions correctly. Pay $17 for Smart Ass the
board game
(org. $24.99). For kids 12 and older.
Related reading:
This post contains affiliate links.