Are you contributing to your 401k at work? If not, you are throwing away money – and I mean money that your employer WANTS to give you. Think of it as a yearly bonus on top of your salary that is just waiting for you. This bonus could be as much as $1,080. That's a lot of free money! I call it your 401k bonus and it's the easiest way to make money.
To get $1,080 dollars, do this one simple thing.
OR, SEE IF YOUR 401K PLAN SUCKS.
1. Contribute.
Let's say you earn $50,000 per year. You can put up to $18,000 of that into your 401k at work in 2015. (Up from $17,000 in 2014). That money comes out BEFORE taxes, so if you put $18,000 into your 401k you'd only have to pay taxes on
$50,000 – $18,000 = $32,000
So not only are you getting your 401k bonus but you're saving money by paying fewer taxes. Talk to your HR department about taking a bit of your paycheck and automatically depositing it into your 401k. Once you adjust, you won't even notice the money is going there!
USE THIS 401K CALCULATOR TO SEE HOW MUCH MONEY YOU CAN MAKE.
2. 401k Bonus
Here's the free money part. Companies typically match 3-6% of what you put in. That's hard cold cash they take from their company coffers and put into your account, with only one string attached.*
*One string attached: Some of the free money (your 401k bonus) is not available until you have worked three or four years at the company. If you've been at your current company for longer than that, this won't apply to you. But if you are a newish hire, check with your HR department for how your 401k matching funds will "vest" over time. You still GET THE FREE MONEY if you stay at the company. If you leave before you're fully vested, some of the funds the company has contributed will be removed from your account. You still get every penny you put in from your own paycheck.
THE FIDELITY 401k IS VERY POPULAR.
3. How much is my 401k bonus?
Let's say you add the 2015 maximum to your 401k, which is $18,000. And let's assume that your company matches 6% of what you put in.
6% of $18,000 = $1,080
That's more than $1,000 of free money. You don't have to do anything to get that free money, other than keep working at your company and keep contributing to your 401k plan. Seriously, make an appointment with your HR rep to get automatic contributions set up.
How else are you going to make $1,000 without doing anything??? 
4. Free money grows
Plus, think about how much your free money – the $1,080 401k bonus – and your own 401k contributions are going to grow. To crunch the numbers, I turned to 401kcalculator.org.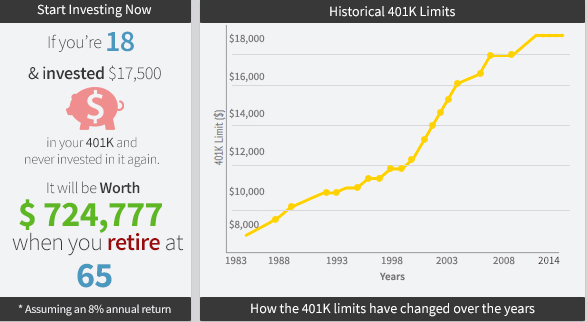 If you put in $17,500 into your 401k now and let it grow until you retire at 65, you'll have $724.777. That's the power of long term growth. *Based on 8% returns, which some may consider high. 
5. What's this catch up contribution I keep hearing about?
If your 401k plan allows, and if you are 50 or older by the end of the calendar year, you can also make catch-up contributions. Here's how much you can contribute on top of the allowable maximum as set by the IRS:
$6,000 in 2015 for traditional 401k plans
$3,000 in 2015 for SIMPLE 401k plans
Do you chip into your 401k? Why or why not?