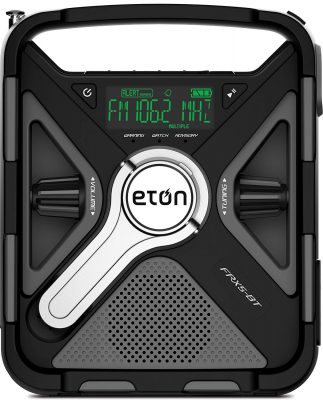 Today only, Save up to 40% on Eton Emergency Weather Radio and Portable Sound System. In need of a weather alert radio that is rugged, reliable and uses nature's power for the latest weather update and news? Look no further, the FRX5 BT can deliver it all and now it has Bluetooth technology for easy streaming of your music and podcasts anytime. The FRX5 BT is solar-powered, splashproof², smartphone and tablet charging,and with S.A.M.E. technology. It is an essential for everyday use at home, at work, or in the great outdoor with charging hand crank power. Click here to snag the Eton Emergency Weather Radio, the Ultimate Outdoor Radio with Bluetooth, 2000 mAh Rechargeable Battery, USB Port for Smartphone Charging, High Efficiency Solar Panel Charging and LED Flashlight FRX5BT for only $39.99.
Stay in tune and up to date: This AM/FM/NOAA weather digital radio includes a display and alarm clock. Use it for direct access to news or stream your music while you are on the go.

Have peace of mind: Always have a quick charge for your smartphone and tablet. Simply plug your device into the 2.1A USB port and power from the unit will automatically 'dump charge' into your device.

Rugged and reliable: With a splashproof rating its performance is ideal for any outdoor adventures such as camping trips, hiking expeditions, or long road trips. Tune in to the radio for news and weather alerts.

Ready to Stream: Listen to your favorite podcast or music from any smartphone, tablet, or Bluetooth device wherever you are. Integrated Bluetooth makes streaming easy with the FRX5 BT. Perfect for today's lifestyle and fun.

Always on Alert! With Specific Area Messaging (S.A.M.E.) the FRX5 BT automatically broadcasts weather alerts for your area. Be prepared and keep your loved ones safe with alerts in advance of any emergency.

Stay Informed: Depend on the FRX5-BT to provide you with news, weather, and music. Continuously and automatically charge the unit with its high efficiency solar panel for use all day long.
This post contains affiliate links.