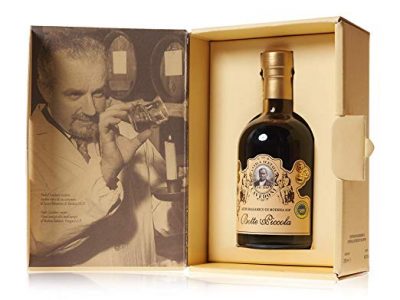 The reviews speak for themselves on this product! The legendary Botte Piccola has garnered a worldwide following among aficionados of traditional Italian balsamic vinegar. The Botte Piccola is aged for a minimum of eight years in oak barrels, creating a superb finishing balsamic that can be used on many foods such as fine cheeses, quality cuts of meat, vegetables, and even ice cream and gelato. Once tasted, you will have experienced one the finest examples of traditional Italian culinary artisanship. Click here for the Botte Piccola Balsamic Vinegar IGP, 250ml Bottle, only $37.49 today. 
Authentic "Aceto Balsamico di Modena" I.G.P. aged over seven years

Artisanal producer 5th & 6th generation father & son with oldest aging celar in Modena

Made completely from their own grape production of Lambrusco and Trebbiano

Beautiful natural viscosity with nothing added – just wine must and vinegar aged in old barrels

Natural sweetness balanced with delicate acid make it outstanding on everything from risotto to ice cream

250ml bottle
This post contains affiliate links.