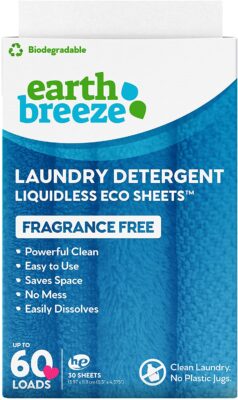 We created Compact by Design to identify products that, while they may not always look very different, have a more efficient design. With the removal of excess air and water, products require less packaging and become more efficient to ship. At scale, these small differences in product size and weight lead to significant carbon emission reductions. Click here for Earth Breeze Laundry Detergent Sheets – Fragrance Free – No Plastic Jug (60 Loads) 30 Sheets, Liquidless Technology, only $11.99.
THE SAME POWERFUL CLEAN – Earth Breeze will clean just as great if not better than leading brand detergent.

FORMULATED FOR SENSITIVE SKIN – Our Eco Sheets were made for your sensitive skin. This means they are hypoallergenic, vegan, bleach-free, paraben-free, and phosphate-free.

SAVE SO MUCH SPACE – Those big plastic jugs are bulky! You can fit 12 packs of Earth Breeze in the same space as 1 plastic jug.

DON'T WASTE – Laundry jugs come in giant plastic containers that take up to 1000 years to decompose. They even contain up to 90% water! Earth Breeze comes in plastic free packaging and uses the water from the machine to dissolve the sheets.

REDUCE CARBON FOOTPRINT – Earth Breeze package is so lightweight and compact that you will reduce your carbon footprint simply by switching from bulky, heavy detergent..

FRAGRANCE FREE – These Eco Sheets are fragrance free, meaning they have no added scent. Perfect for sensitive skin.

HALF SHEET FOR REGULAR LOAD – Half a sheet for a regular load (when the drum is half full) 1 sheet for a full load (when the drum is 3/4 full) and 2 sheets for a extra-full load or heavily soiled (when the drum is totally full)
Remember, Amazon prices can change at any time.
This post contains affiliate links.