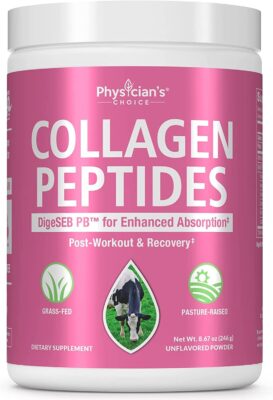 Not all collagen is the same. Without sufficient breakdown, collagen protein is not effectively absorbed across the intestinal wall into the bloodstream. We formulated our Collagen Peptides for optimum bioavailability by including a hydrolyzed source of collagen peptides with the natural digestive enzyme blend DigeSEB PB to enhance further breakdown into the essential and beneficial amino acids collagen is known for, so you get the true benefits of collagen in a concentrated dose*. Click here for Collagen Peptides Powder – Enhanced Absorption – Supports Hair, Skin, Nails, Joints and Post Workout Recovery – Hydrolyzed Protein – Grass Fed, Non-GMO, Type I and III, Gluten-Free, Unflavored, 1 Pack, only $16.96!
Collagen Powder for Enhanced Absorption: Our collagen peptides are hydrolyzed and contain patented DigeSEB digestive enzymes, giving our Collagen peptides powder Improved Absorption over other collagen supplements. If you are not digesting your collagen powder properly, you're throwing money away! Stop wasting money and start feeling the many benefits of Collagen Peptides Powder with DigeSEB.

Clean & Pure Collagen Peptides: Our hydrolyzed collagen powder is hormone-free, grass-fed, and pasture-raised. It's also all-natural, non-GMO, and contains 19 amino acids to promote vitality and support hair, skin, nails, and joints.

Replenish, Repair & Recover – Unlike most other collagen supplements our collagen includes Digseb and 19 amino acids to help repair and replenish hair, skin, and nails along with aiding in post-workout & recovery.

Non-GMO & Grass-fed Collagen Peptides Powder: We believe in sourcing the best collagen in the world, and we want better than great collagen. We source from premium non-GMO, grass-fed, and pasture-raised bovine, giving you the best collagen powder supplement on the market.

Safety Assured Standard of Quality: Our Collagen Peptides Powder is 3rd-party tested for purity and made without the use of harmful additives. Our collagen is manufactured in the USA using imported and domestic ingredients. When you buy our collagen powder you can rest assured it's all-natural and ethically made.
This post contains affiliate links.