Whenever we pass by LUSH in the mall, my 11 year-old daughter and her friends are instantly pulled in as if by a strong magnet. The chain's bath bombs seem to be the biggest crowd pleaser. Sure, they're colorful, often glittery, and they smell intensely fragrant, but these bath treats do not come cheap!
How to make your own bath bombs for less.
Put that DIY slime recipe away, girls, it's time for a new craft.
First, I wanted to know the appeal of these trendy bath bombs. My daughter and her friends think bath bombs are are great because of "the smell and the fizz." And Tiffany Tales raves "they make the whole house smell good, too."
This is all well and good, but did you know that these bath bombs can sell for as much as $12.95? For one bath bomb. That's $12.95 you'd be spending to take one bath. And the bath bomb kits on Etsy are also pricey – averaging $25 apiece. I've found myself wondering just how much money LUSH is raking in from these products that are essentially just baking soda and citric acid. The more research I did, the more I realized just how inexpensive the ingredients are. So I set out to find a way to make them on the cheap.
DIY Bath Bomb recipe. One Good Thing By Jillee has a recipe for making your own "LUSH Inspired Bath Bombs."  What you need:
Baking Soda
Epsom Salts (you can find these at your local CVS or even the dollar store)
Corn Starch
Water
Oil (which can be almond oil, avocado oil, grapeseed oil, hempseed soil, coconut oil or olive oil)
Food coloring (optional)
Tips for making your own. I asked bath bomb-making expert, 11 year-old Penelope, for some advice on making your own.
Rather than ordering a bath bomb mold, Penelope got creative and made her own using plastic Easter eggs (readily available this time of year)!
Alternatively, use measuring cups instead of molds. "Tightly pack the mixture into the measuring cup, take it out of the measuring cup very carefully, and let it dry."
Avoid bath bomb recipes with soap in them. "It makes the bath way too soapy."
Buy in bulk. "I usually get my supplies at Costco or any other stores where you buy in bulk, that way I get a large supply."
Make the mixture moist enough. "Some instructions say it should be like sand, but that's too dry. It should be more of a kinetic sand consistency, or at least moldable."
Other suggestions.
Looking for gold dust? You can find Lustre Dust at your local cake store or buy it on Amazon.
You can find silicone molds at Michael's or Amazon. I even saw some today in Spring shapes at the 99 Cents Only Store.
Are you obsessed with bath bombs?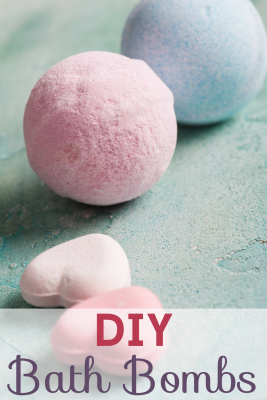 This post contains affiliate links.