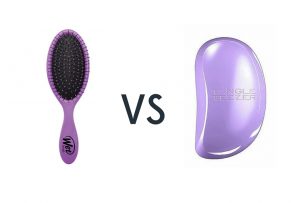 My daughter has long, thick, wavy hair that tangles easily. She is also a swimmer, which means her hair has a lot of opportunities to get tangled. When I first heard of detangling brushes, I was skeptical. They don't look any different from conventional brushes, after all, so it sounded like a big marketing ploy. But after too many rounds of tugging through my daughter's knots and tangles, I decided to try out the Wet Brush.
When I first got the Wet Brush I examined it closely and tried to identify what could possibly make it unique. Again, it looks like any old brush you might find in Target. But once you start using it you realize it is no ordinary brush, at least not when it comes to detangling.
The design of the Wet Brush is counterintuitive. Its bristles are softer and more flexible than bristles on standard brushes. This doesn't make sense to me – you would think the bristles should be firm to power through the tangles. But somehow, magically, they work. The Wet Brush makes quick work of even the biggest knots and really does detangle my daughter's hair – wet or dry – quickly and painlessly (relatively speaking, of course).
But there's a flip side: after several months of use, those magical bristles began to fall out, one by one, until the brush simply wasn't effective anymore.
I decided to give the Wet Brush Paddle brush a shot. My daughter's hair is so thick that I reasoned a brush with a bigger surface area might prove more durable. The good news: the paddle brush is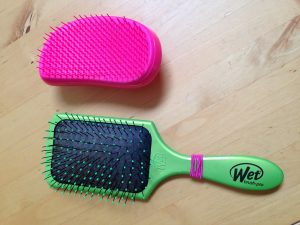 even more effective at detangling than the original Wet Brush. The bad news: the bristles are starting to fall out again.
So I decided to try the Tangle Teezer, which seems to be the Wet Brush's main competitor. Since we were using the Wet Brush Paddle brush, I bought the Tangle Teezer Elite, which is the larger version of the Tangle Teezer. I figured that would make for a more direct comparison.
As you can see from the photos, the Tangle Teezer is a completely different shape than the Wet Brush. It has no handle but is formed to fit comfortably in your hand. The bristles are stiffer than the Wet Brush bristles, and they don't have the same ball tip (although I don't think those affect the detangling properties of the brush). They also alternate between long and short bristles.
The brushes are similar in price: as of this writing the Wet Brush Paddle runs from $7.82 to $10.04 on Amazon, depending on color, and the Tangle Teezer Elite goes for about $11.
So how do the brushes compare in performance? To be honest, I am a little shocked by all the good reviews of the Tangle Teezer. To start, neither my daughter nor I liked the way the brush felt in our hand. We both much prefer having a handle. But that is something we could probably get used to.
What we can't get used to is how ineffective the Tangle Teezer is. It simply does not get through the knots and tangles, certainly not any better than a regular brush. With the Wet Brush, I can isolate a knot and smooth it out in just a minute or so. The Tangle Teezer felt like I was brushing on top of the tangle, snagging hairs and making my daughter yelp in pain. It took forever to get through and truly detangle her hair. At one point my daughter cried out that the brush should be renamed the "Tangle Tears-er." We tried it on wet and dry hair and found it to be equally ineffective on both.
So in terms of detangling ability, the Wet Brush wins, hands down. But durability is an issue. It's certainly possible that my daughter is harder on her brushes than the average kid, but if you plan to buy a Wet Brush, know that you may need to replace it sooner than you would like. Also, no brush is perfect for everyone, so keep in mind that the Tangle Teezer might be ideal for other kinds of hair. For us, the Wet Brush is still the best option, but I will be keeping my eyes open for an equally effective but longer-lasting substitute.
Do you have any favorite detangling products or tricks? Let us know in the comments!