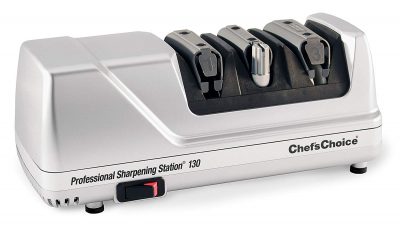 No Experience Necessary Or Skill Required! Sharpen, Steel and Strop your 20 degree class knives like a PRO with the Chef's Choice Model 130 professional sharpening station! Today only, get the Chef'sChoice 130 Professional Electric Knife Sharpening Station for only $89.99. You'll be saving a whopping $90!
Built-in precision angle guides in all three stages eliminate guesswork and produce consistently sharp edges every time.

Professional sharpening, steeling, or stropping for all types of 20-degree class knives.

Sharpen both straight edge and serrated knives including kitchen, household, sports and pocket knives.

Electric 3-stage sharpener with 100-percent diamonds in stage 1, super-hardened sharpening steel in stage 2 and flexible stropping disks in stage 3.

Optimum edge customized for every cutting task.

Stabilizing rubber feet hold the unit securely to the work surface.

Single on/off button.

3-year limited warranty.
This post contains affiliate links.