The average wedding costs approximately $30,000. But is it possible to have a beautiful
wedding on a budget
? Yes! Here's how my friend was able to pull it off her dream wedding for $10,073 without settling for less.
Here's how one woman cut her wedding budget – and couldn't have been happier with the results.
My friend Sonia Saltos has a flair for throwing a party on a budget, the kind of soiree that people talk about for weeks. So when it was time to plan her wedding, she wanted it done right, which also meant doing right by her budget. She shared with me how she was able to cut costs.
Wedding Invitations
The average couple spends $659 on wedding invitations, according to the Bridal Association of America. "I work for a paper company and was able to purchase raw paper stock at a wholesale price for approximately $40," she said. "I typed them up on Word and sent them to a printer friend who printed and cut them down to size free of cost to us. We added a red rose on each envelope for a total of $8, lace for $12 and ribbon for $6. I used the roses, lace and ribbon for some of the decor too, for no extra cost. I borrowed the paper cutter from work and pulled out my handy dandy glue gun and put them together."
Total cost: $66
National average: $659
Recommendation: Don't be afraid to use work resources if this isn't a problem, and reach out to friends who can offer services for a discount.
Seating cards
These are an added expense, especially if you use a calligrapher. Sonia says, "I reserved only a few tables, for our parents.  I made reserved signs myself for church seating and used them for reception afterwards."
Total cost: $0
Recommendation: DIY.
Thank you cards
These can also be a hefty expense. Says Sonia, "I made them from left over invitation stock and them printed myself."
Total cost: $0
Recommendation: Again, DIY.
Music
It's estimated that the music costs for an average wedding are $900 for a DJ and nearly $3,300 for a band. "I hired a DJ, a friend of my nephew for $200 the entire night," said Sonia. "I also had a Mariachi band for 3 hours (1 hour at the church and 2 hours at the reception) for $1,050.00. A friend gifted us $600 towards the Mariachi band and another friend gifted us $100 towards the DJ."
Total cost: $550
National average: $900-$3,300
Recommendation: Great wedding gifts can contribute to the wedding itself. Especially if this is your second wedding and you already have enough housewares.
Alcohol
The average wedding cost for alcohol is $3,000. But not for Sonia.  "No alcohol was served because my husband is a recovering alcoholic."
Total cost: $0
National average: $3,000
Recommendation: Don't be afraid to skip the booze, or if you do, limit the offerings to beer and wine. 
Dress
The average bridal gown costs $1,134, with the veil, headpiece and belt adding another $600 more. Sonia says, "After running around to different bridal shops and not finding anything of my complete liking, I had mine custom made and got exactly what I wanted. The total was $1,300, including cathedral veil and belt."
Total cost: $1,300
National average: $1,734
Recommendation: Shop around until you find something to your liking, even if that means custom made.
Dress accessories
They can add up to over $450 according to Cost of Wedding. But not for Sonia. "I wore earring purchased at Ross, rose gold over bronze to match my ring for $16.99. The garter was $5 and the bra was built into my dress. My veil would've cost $650 alone at David's Bridal, but my was included with my dress."
Total cost: $21.99
National average: $450
Recommendation: Shop around. Bridal stores may charge a premium.
Shoes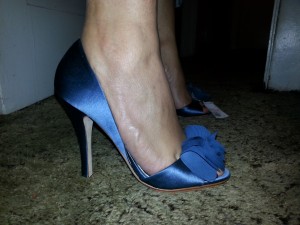 According to Cost Helper Wedding, high-end shoes can typically cost $300-900. "I found Badgley Mischka brand shoes (average cost $175.00) for $28 brand new at a hipster thrift shop," Sonia said. "The shoes were also my 'something blue.'"
Total cost: $28
National average: $300-$900
Recommendation: Shop around for bargains.
Flowers
Most people spend a minimum of $2,000 on flowers – and often much more. But not Sonia. "I purchased my centerpiece base on clearance at a discount store for $3 each X 12 = $36, spray painted and re-touched them with gold paint ourselves – approximately $30 for all the paint. I used black magic pomander rose balls for centerpieces and the bridal bouquet, plus 3 bridesmaids' bouquets and 2 boutonnieres (for the groom and best man) were $517."
Total cost: $583.00.
National average: $2,000
Recommendation: Consider making your own flower vases for a personal touch that's also affordable. 
Photography/Video
The average price is $2,500 for prints and $2,481 for videography. Sonia tells us, "The prints we ordered included ceremony and reception, engagement photo shoot and photo album, wedding album, mini-wedding album, 16 X 20 framed reception photo from the engagement photo shoot, a 16 X 20 framed wedding portrait, 5 professional retouched 8 x 10 portraits, 2 videos, and master of all portraits (approximately 2000 pictures) came to $1,750.00 total."
Total cost: $1,750 for photography
National average: $2,500
Recommendation: Shop around, skip the videography. 
Wedding bands
Couples spend between $2,000 for simple wedding bands. Here's what Sonia did: "For myself, I ordered a rose gold ring with with a peach morganite stone and diamond accents for $1,250. I used an online coupon. For the groom, we got a white gold wedding band for $390 in the Jewelry District in Downtown Los Angeles."
Total cost: $1,640
National average: $4,000
Recommendations: Check out online coupons and jewelry districts.
Food
On average, people pay $63 per guest – that's $6,300 for 100 guests (which is how many Sonia had). Here's what she did: "I had a hole-in-the-wall restaurant cater the wedding for $725. This included two servers. Food was served buffet style – traditional Mexican food: birria, chicken fajitas, rice, beans, salad, condiments, horchata, tamarindo and jamaica waters and chips. I set up a chips and salsa bar (and had my mom and future mother-in-law help make the extra salsas). I hired a friend to help with picking up the dinner plates for $100."
Total cost: $825
National average: $6,300
Recommendation: Shop around for venues and ask relatives and friends for help.
Linens/Tableware
Prices vary from state to state, but like everything, it all adds up. Sonia says, "We rented linens and tableware for $900 and had friends and family help set up early the day of. This saved us a $500 set up fee. I used leftover roses from our invitations to decorate the chair sashes. I purchased gold charger plates at the Dollar Tree which added the perfect touch!"
Total cost: $1,000 including Dollar Tree plates
Recommendation: Enlist friends and family for help. Add your own personal – and inexpensive – touches.
Cake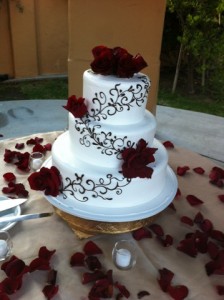 The wedding cake can range from $500-$5,000 on average. Says Sonia, "I had the most delicious freshly made 3 layer cake which cost  $400. I purchased a cake stand on eBay for $100. I decorated the cake with extra roses provided by our florists free of charge."
Total cost: $500
National average: $500-$5,000
Recommendation: Add a personal touch with your own cake stand and decorate the cake – or around the cake – with flowers which you can ask for from the florist, free of charge.
Reception venue
On average, couples spend $12,000 for the wedding venue. Sonia: "We found a hidden gem in Mission Hills, Brand Community Center – it's an outdoor/indoor venue which included tables and chairs and two security guards all night."
Total cost: $1,744
National average: $12,000
Recommendation: Look around for hidden gems and consider community centers.
Wedding favors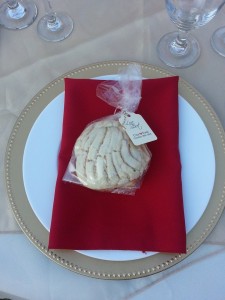 These can range in price…and add up. Sonia tells us, "One of my favorite touches were our wedding favors – they were pan dulce aka Mexican sweet bread, I had special ordered 3/$1. I ordered custom made tags from eBay for $12, put them in clear plastic pastry bags purchased at Michael's for approximately $10 and used them on top of each place setting. They looked beautiful."
Total cost: approx. $56
Recommendation: Make them yourself to add a personal touch – and save money.
Centerpieces
According to Brides.com, the average cost of wedding centerpieces for the dinner tables is $1,750. Sonia: "I purchased candle votives from someone on the weddingbee site (left overs from another wedding), brand new to use at each table. I paid $35 for 150 pieces, including the candles."
Total cost: $35
National average: $1,750
Recommendation: Check out weddingbee.com for ideas and savings.
Guest book
The cheapest guest book at Barnes & Noble runs around $20. Instead, Sonia got more creative. "I used a picture frame I already owned and made a sign for it that said, "Please leave your wishes for the Mr. & Mrs. We used heart shaped cut-outs made of card stock I already owned in red, gold & champagne colors and the guests left us messages and inserted them in the bottle next to the frame."
Total cost: $0
Are you planning a wedding on a budget?