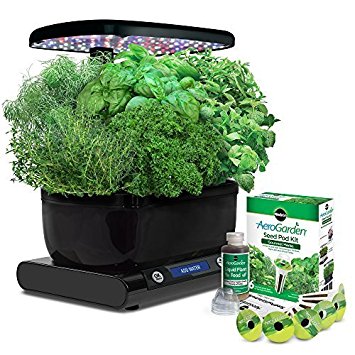 I've blogged about the Aerogarden before, and this version has some incredible features I've never seen in action! Today only, get the AeroGarden Harvest Wi-Fi with Gourmet Herb Seed Pod Kit for only $89.95. That's a discount of $90! Check out the features of this high-tech gardening marvel:
Garden year-round. Grow fresh herbs, vegetables, salad greens, flowers and more in this smart countertop garden.

Wi-Fi enabled – manage all AeroGarden features from setup through harvest using your smart device. Receive helpful reminders to add water and nutrients, and easily access insightful tips and one-touch customer support to help you get the most from your AeroGarden.

Up to 6 plants can be grown at a time. Plants grow in water…not soil. Advanced hydroponics made simple.

High-performance, full spectrum 20-watt LED lighting system is tuned to the specific spectrum that allows plants to maximize photosynthesis, resulting in rapid, natural growth and abundant harvests.

Includes 6-Pod Gourmet Herb Seed Kit that contains: Genovese Basil, Curly Parsley, Dill, Thyme, Thai Basil and Mint & 3 oz. patented nutrients (enough for a full season of growth).
This post contains affiliate links.