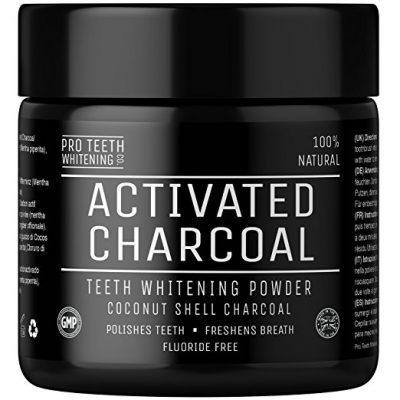 If you are interested in whitening your teeth the natural way, look no further! Today only, snag this Activated Charcoal Natural Teeth Whitening Powder by Pro Teeth for only $10.99! That's a savings of 63% off the regular price for a product with excellent reviews.
ALL NATURAL HIGH BLEND GREY COCONUT ACTIVATED CHARCOAL – We have used the highest spec coconut charcoal – this gives the grey appearance. We have also mixed this with Bentonite Clay for added hygiene and dental cleaning effects. Be careful with all black charcoal as this may scratch enamel.

No.1 BEST SELLER * ACTIVATED CHARCOAL WITH BENTONITE CLAY * This high purity charcoal has been sourced specifically for it's teeth whitening properties. The powder is fine so it does not scratch the teeth instead only removing surface stains.

BUY WITH CONFIDENCE – Pro Teeth Whitening is a well established UK brand trusted by customers all over the World. Everything we manufacture is made in the UK & USA using the highest purity ingredients and safeguarded by the highest manufacturing standards in the world (GMP & BCR).

NO SYNTHETIC ADDITIVES, colours, preservatives, foaming agents, artificial flavours, fluoride etc.

ALL NATURAL & TRUSTED – RDA tested and proven to not damage teeth enamel. All natural ingredients and made in the United Kingdom.
This post contains affiliate links.