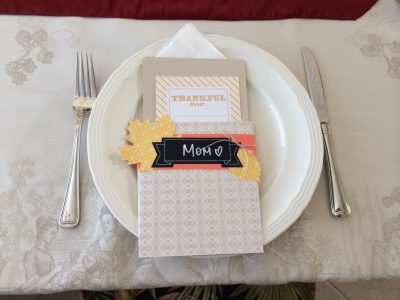 Halloween is behind us and Thanksgiving is right around the corner. I love Thanksgiving because it is a time for family, reflection and thanks. The following activities can help you create a special day.
Make a Thanksgiving scrapbook. Every year, take a picture of who you sit down with. Note who is the oldest and who is the youngest. Enter in any special relationships (Aunt Josie just got engaged to Will) and where people are currently living. Over time, this will become a treasured family album.
A variation on a scrapbook is a yearly video. Have everyone say their name and age and what they are thankful for. These will be precious memories in the years to come.
Find a story book that is representative of how you feel about family. Read that story to the youngest kids each year. Ten years down the road, you will find everyone sitting around waiting to hear you read the story.
Schedule an activity that gets everyone up and moving. If you are in a warm weather environment, you can take a jog or have a flag football game. If you are in a colder climate, check out Leah's favorite board games for all ages. You will have a much more pleasant and memorable day if you have thought about planned appropriate activities that you can do. Consider the age, interests and abilities of your guests in order to have ideas that won't fall flat.
Tell everyone that you are going to be going around the table and asking what people are thankful for. This will give everyone a chance to think about it and talk to the younger kids. I suggest that you don't delay eating for this, but let this be the dinner conversation.
Make place tags. There are so many great ideas for DIY Thanksgiving place cards. This is a fun activity for kids to do ahead of time.
If you happen to be in the Boston area, go to Plimoth Plantation. This is a very interesting field trip that gives you and your family a good picture of what it must have been like during the early years for the European settlers and their interaction with the Native people. You can even eat your Thanksgiving dinner there. But hurry, the seats sell out fast.
If you are having a potluck dinner, have everyone bring recipe cards of their dish and exchange cards. You can even take pictures and upload them to the back of this fall recipe template.
Make a Give Thanks centerpiece. This is a simple project that is easy to personalize and make your own! I'm going to try this one for sure.
Learn the art of napkin folding. If you have kids, teach them to fold the napkins prior to the day of the event. Then on Thanksgiving, have them create napkin art. This will give them something to feel that they have contributed to the dinner, and it is a skill they will have for life. I still know how to make pretty napkins folds that my mom taught me many years ago.
Plan to watch at least one of these 20 movies about Thanksgiving. Many of these can be found for free online or for cheap download.
I love the potential of Thanksgiving. Use it wisely as a time to say "I love and appreciate you" to those special people in your life.