My nephew just turned five this year so he's still completely in love with the holidays and making crafts. I wanted to create a fun craft table for him and am sharing my favorite Thanksgiving crafts for kids with you. I included crafts for various skill levels and ages – something for every age! Even better, they should all cost you $5 or less! Don't waste money on already-made Thanksgiving crafts. Make memories while you make your own.
Here are 10 frugal Thanksgiving crafts for kids
Handprint Turkey Hat – For this craft all you'll need is construction paper, glue scissors, and a black marker! This is  a fun craft for kids of all ages. First, cut out two strips of brown construction to make a band (you'll want to measure your child's head to make sure it fits!). Then, cut out three handprints, a turkey head, beak, and feet. Glue everything to the head band and voila . . . turkey hat!
Thankful Pumpkins – If you're trying to get kids into the real spirit of Thanksgiving this is the perfect craft! For this kids craft you'll need scissors, orange and green construction paper, a black marker and a stapler. Simply cut out 8 strips of orange paper. Then, have kids write one thing they are thankful for on each strip.  Staple into a circle and add a green leaf to finish off.  Find the step by step picture tutorial here!
DIY Turkey Rings – Turn pipe cleaners, googly eyes, and pom pom balls into adorable turkey rings with a little help from a hot glue gun. Boys and girls will love these rings AND they're fun to make. Since this craft involves a hot glue gun it should be done with the supervision of mom or dad.
Thanksgiving Krispie Treats – I love any excuse to make rice krispie treats (my weakness!) and this recipe offers the perfect Thanksgiving twist. Kids will love shaping the rice krispies and decorating the turkeys. BUT keep in mind these types of food crafts can get messy! This craft is also a great way to make use of any leftover Halloween candy. Yum! Find the step by step tutorial here.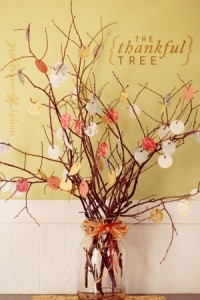 Thankful Tree – This craft doubles as a cute centerpiece. It may seem too advanced for kids but that's really not the case. Kids can go outside and look for branches and then cut out construction paper leaves. Then, have children and other family members write down what they're thankful for. Tie the leaves to the branches with a ribbon (or simply cut a hole and hang on branches) and place into a vase.  This will create a pretty centerpiece your kids will be proud of and will also be a conversation starter. Even sweeter, this craft should only cost you $2 or less!
Chalkboard Pumpkin – Do your kids love to paint? Then this craft is perfect. Just paint a pumpkin with chalkboard paint and then use chalk to write holiday messages on the pumpkin. Kids will have fun painting and decorating.
Turkey Tag – After eating all that turkey it's a good idea to get out of the house and get some exercise. This craft will have kids doing just that. Take some clothespins and paint to put a fun spin on classic tag. Paint the clothespins a different color for each participant (each child should have three clothespins). Then, glue on googley eyes and a small orange beak and red gobble (made of construction paper) to make the turkey. The kids then attach three clothespins anywhere on their clothes that they want. Each player tries to remove the other players turkey pins without losing theirs. Who ever lasts longest wins. Fun!
One Dollar Leaf Garland – This craft caught my attention because, well, it only costs a dollar!? What's not to love? For this craft you'll need:  ribbon, iron-on bonding tape, and one package of felt leaves table scatter. For the step by step tutorial head here.
Pinecone Turkeys – These pinecone turkeys are super cute and easy to make. Even better they're super cheap. To start, go outside and grab a few pinecones (or buy a bag of fake ones at your local Dollar Store).  My nephew loves to go gather materials from outside and I'm sure other kids will too so make sure to enlist their help! Then glue googly eyes to small pom poms. While this is drying create legs and feet by folding pipe cleaners. Next, cut a beak out of orange or yellow foam/construction paper. Last, glue on eyes, feet and beak. Done!
Turkey Cone Party Hats – These hats are cute and would be a perfect craft table activity for Thanksgiving. Use glue, feathers, an elastic band, and construction paper to create these cute hats. Find the step by step picture tutorial here.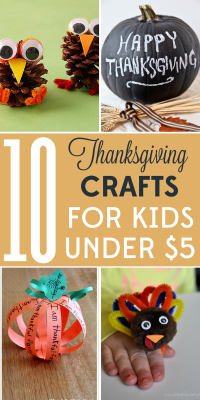 This post contains affiliate links.