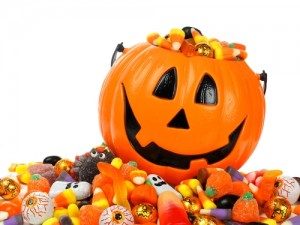 This Halloween we didn't have as many visitors as we're used to so we have a TON of leftover candy. Since my nephew is only five (and already hyper enough) we're trying to get the leftover candy out of the house as soon as possible. For this reason, I've been looking for uses for leftover Halloween candy…because no candy should go waste!
Here are 12 fun and frugal uses for leftover Halloween candy
1. Freeze It – You can freeze Halloween candy for up to a year. Just store the leftover candy in a plastic bags and use for baking or as a special treat later in the year. Candy is actually easier to cut up when frozen which makes this perfect for baking! You can also thaw out candy and use it to decorate a gingerbread house in the winter.
2. Stuff a Piñata – Who doesn't love a piñata? Whether you have a birthday coming up or are just looking to spice up a Saturday a piñata filled with your leftover Halloween candy is sure to be a hit! 
3. Donate It – You can donate candy to a local food bank, orphanage, homeless shelter, or nursing home. This is an easy way to make the day of those who couldn't normally afford the luxury of a sweet treat. This is also a great way to teach children about the importance of giving to others and get into the spirit of Thanksgiving.
4. Make Trail Mix – Use leftover candy to make homemade trail mix. We love this recipe from The House of Hendrix. Yum!
5. Bake It – There are TONS of great recipes out there for halloween candy treats. Whether you're a chocolate lover or more into fruity sweets there's a recipe for you. Buzzfeed's list of leftover halloween candy cakes is a great (and delicious) place to start!
6. Make Homemade Flavored Vodka – Just drop your leftover candy into a bottle of plain vodka and let it soak for a few days. This is perfect for sweet and sour candies such as: Sour Patch Kids, Blow Pops, Jolly Ranchers, Sweet Tarts, Skittles, and more! Wait until the candy has dissolved and then strain out any remaining candy. Voila . . . flavored vodka!
7. Thanksgiving Candy Crafts – Halloween candy comes in fall colors which makes it perfect color pallete for Thanksgiving crafts. The Working Mother has a list of five candy crafts that double as Thanksgiving decoration or treats. I'm loving the Oreo turkeys right now. What about you?
8. Have your Dentist Buy it Back – Halloween Candy BuyBack is a program that allows children to trade in their candy to a local dentist for cash and prizes. The candy is then sent to troops overseas. Sweet!
9. Make Chocolate Infused Sugar – Shave 3 tablespoons of chocolate into one cup of granulated sugar to make your own chocolate infused sugar. This is perfect for leftover candy bars! This sugar will be delicious in coffee or hot chocolate. Yum!
10. Use for Science Experiments – Lemon Lime Adventures has 10 educational science experiments that use leftover halloween candy. Our favorites is the Marshmallow Monster experiment! Check it out to choose yours.
11. Candy Wrapper Crafts – Have a lot of empty candy wrappers? Don't be ashamed, I do too! Put them to good use with some candy wrapper crafts. Saved By Love Creations has a huge list of 50 candy wrapper crafts to choose from. From bookmarks to purses there's sure to be something for everyone.
12. Use as a Counting Tool – Have a kid struggling to learn math? Use small leftover candies like Hershey Kisses or Smarties as a counting tool. This will help kids with counting and entice them to finish their math homework.
How do you use up leftover Halloween candy?