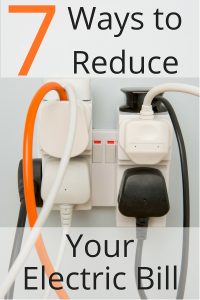 In the oppressive heat of summer, you are likely thinking more about relief than saving money on utilities. But that relief turns to regret when you get your electric bill. The winters are no different as you obviously are going to turn on that heater before you let yourself freeze. Thus, it seems there's no escaping the high cost of electricity.
Easy Ways to Reduce Your Electric Bill
According to the latest records from the U.S. Department of Energy – Energy Information Administration (EIA), the average residential monthly electric bill was $110.21 in 2013. And it just keeps rising! It was revealed that the most expensive utility bill for homeowners is in fact the electric bill. According to the Bureau of Labor, electricity accounts for roughly 9% of expenditures on housing.
Unless you plan to go completely off the grid, there's no escaping the electric bill entirely. So here are 7 smart ways you can reduce your usage:
1. Keep Your Vents Open and Clean
If you have a central heating and/or conditioning system, check the vents in your home. It's easy to overlook the fact that some may be closed. This results in the central heating and/or conditioning system struggling to keep your place hot/cool. Some people believe that closing vents can reduce energy consumption by preventing the need to cool or heat a particular room. That's actually a myth: closing vents will actually raise your energy costs. Furthermore, your vents use air filters to keep dirt and dust from blowing throughout your home. Those filters should be replaced monthly or they'll prevent an ideal airflow.
2. Block the Holes in Your House
Many people don't realize that their doors and windows might possess holes or cracks here and there. Even if those holes seem very small, they can have a big impact. According to Consumer Reports, sealing leaks can reduce energy costs by 15 to 30%.  That's a big savings!
3. Time to Change Your Lightbulb
LED bulbs may be more expensive initially, but they are definitely worth the investment. Check out our cost comparison of lightbulbs — the LEDs came out way ahead (and LED bulbs are even cheaper now)! An English study has shown that £1 out of every £3 spent on lighting and heating our homes is wasted (Dept. of Environment). So energy efficient lighting should be one of the first improvements to consider for your home. 
4. Be Mindful of Your Windows
When it comes to proper ventilation, the type of windows can affect your heating and/or cooling system. The U.S. Department of Energy recommends that window air conditioners be placed toward the center of the room on the shady side of the house. Additionally, heat-producing appliances such as lamps and televisions should be placed away from the air conditioning thermostat so as to prevent inaccurate temperature readings.
5. Microwave vs. Electric Stove
If you are trying to decide between using the microwave or electric stove, this equation might just help you out: in general, the microwave can consume as much as 90 percent less energy than an electric stove. This can vary depending on what you're cooking. If you're making something very quick – such as boiling water – it's probably best to just use the stove. But anything that requires a longer cooking time, such as a baked potato, will use less energy in a microwave.
6. Watch the Water Heater
Your electric water heater draws more electricity than almost anything else in your house. According to the U.S. Department of Energy, water heating systems are the second biggest user of electricity in the home, accounting for an average of 18 percent of electricity costs. The amount of electricity used by an electric water heater depends on the size of the water tank, the amount of water used, the temperature setting of the water heater, and whether the tank is insulated. If you have an insulated tank, you actually have the advantage of being able to keep the water warm for few hours. So be prudent and limit your hot water usage when possible.
7. Get an Annual Checkup
According to Josco Energy Corp, using energy efficient products and monitoring your energy consumption can reduce your bills up to 35%. Getting informed about your usage can help you reduce your costs significantly. For example, an average water heater runs 3 hours daily. A 50-gallon, 5,500-watt water heater with a 0.90 EF and an electricity rate of $0.16 per kilowatt hour will cost $781 to operate each year. When you do an annual checkup and learn about your consumption habits, you will better know how manage your usage. Similarly, make sure your systems are running at their highest efficiency by having annual professional cleanings and checkups. Your house's biggest electricity devourer is your air conditioner/heater. The air conditioner can account for as much as half of your energy bill. If it is well-maintained and running properly, it will cost you less in the long run.
What are your tips for saving on energy costs?