When I was a child, my sisters and I made ornaments for our Christmas tree. Now as adults with children of our own, we gather at our parents' house each year and decorate their tree with these same ornaments. Now it's your chance to create memories with your kids by making homemade ornaments. Your kids will have a fun activities to keep them busy and will take pride in seeing their creations hanging from your tree.
Here are some easy and inexpensive ideas for DIY ornaments.
1. Leftover puzzle piece ornaments.
Don't you hate when a puzzle is missing a piece or two? Rather than just toss it, upcycle it! Or use puzzles that your kids have outgrown or pick up smaller ones from the dollar store. Then – get creative! Paint with acrylics and decorate with buttons, pompoms, glitter, googly eyes or whatever you choose. A little ribbon tied to the top makes them ready to hang.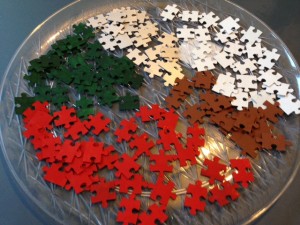 2. Painting clear ornaments.
You can pick up clear glass or plastic clear ornaments from a craft store like Michael's. Chances are, they're on sale right now! Put smocks on the kids, give them some acrylic paints and let them get creative. You can also cover them with glue and roll in glitter.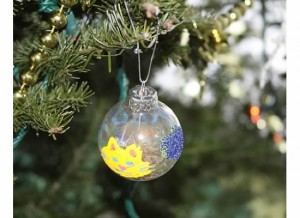 3. Melted crayon ornaments.
Got too many crayons taking over your house? What about those stubby, broken ones? Turn them into ornaments! Unpeel crayons, place in a silicon mold and melt in oven at 300 degrees. When the melted ornaments are still warm but starting to harden, take a skewer or a toothpick and poke a hole in the top where you can hang a string. Caution: Don't make our mistake and use ice cube molds – they are made of a different kind of plastic and they melt! (Source:  Twelve Crafts Till Christmas)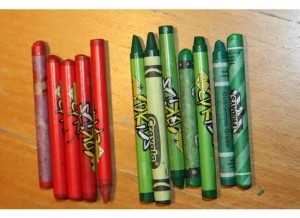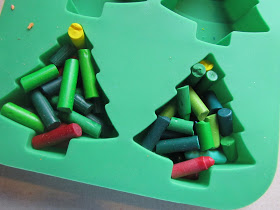 4. Melted snowman ornament.
This is an easy craft for kids of any age to make. Cut out a white piece of felt into a puddle like shape. Hot glue your small styrofoam ball to the felt. Then hot glue on your felt eyes, and nose to the ball. Using a marker, add a mouth. Pipe cleaners make up the stick arms. Make a "U" shape with floral wire and stick it into the styrofoam ball head. Then use twine or ribbon to make a loop for hanging. Caution: Please supervise children when using a glue gun – they can be very hot! (Source:  Bacon Time with the Hungry Hypo.)
5. Reindeer handprint ornaments.
These ornaments will make such cute keepsakes as your children grow. Paint the child's hand with non-toxic, washable brown paint. Place the hand on construction paper, cardstock or a foam sheet. Let the pain dry. Have the child add two googly eyes and a red pompom nose. When the glue has dried, cut out the reindeer handprint ornament and use a hole punch to make a hole at the top. Tie ribbon or string through the hole. (Source: examiner.com)
6. Stable ornaments.
These beautiful stable ornaments are easily made with craft sticks. For complete instructions, follow the link to Adventures of a DIY Mom.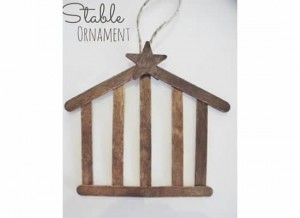 7. Pipecleaner Trees.
These couldn't be easier! What you need: green pipecleaners, beads, pompoms. We recommend a hot glue gun with supervision. Attach a clear fishing wire at the top to hang on a tree, or use as table decorations.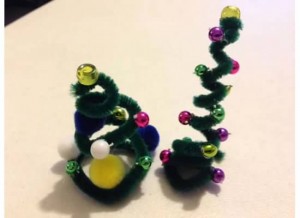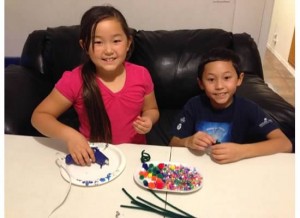 Want more ideas?
Are you planning to make your own ornaments this year?