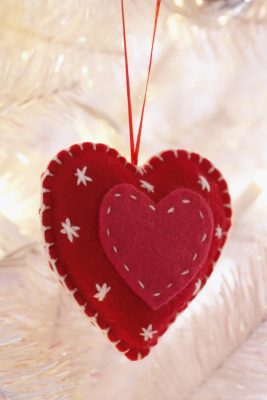 There are times when a gorgeous, perfectly symmetrical, immaculately decorated Christmas tree is just what you want. But other times, your tree calls for something a little more unique or personalized, or you just need a frugal way to fill it without having to strew tinsel. Or maybe you want your kids and grandkids to be part of creating the look.
Here are 5 easy handmade ornaments for decorating your tree or giving as gifts:
1. Felt pincushions (shown above). Can be made in any shape! Cut stars, trees, snowmen, or more from red and white felt. Use contrasting thread to hand-sew a button or other decorations on the top piece, then hand-sew around the edged and fill with a little bit of quilting batting. Vary the sizes for visual interest.
2. Cookie cutter ornaments. This Martha Stewart Living project shows how to use holiday-shaped cookie cutters as a "frame" for pretty papers or family photos. A quick project even kids can do, and even cheaper if you can find cookie cutters at Goodwill or a dollar store. Metal cookie cutters are fancier but the smaller plastic ones would be a great kids project.
3. Paintbrush men. I fell in love with this whimsical, unique idea of making paintbrush ornaments, found on The Upcycle Blog. Putting some ribbon through the handle makes an easy hanger for the upside-down brushes, which have built in "mustaches"! You can let your imagination run wild to personalize. If you have some artistic talent you can make them look very elegant, or for a kid's project just paint them red like Santa and glue on some googly eyes and a button for a nose.
4. Styrofoam "ball" ornaments. Prefer the classic "ball ornament" look but maybe you have small kids, or a dog, or just don't want to handle and store something so delicate? Purchase basic styrofoam balls from your local craft store or Amazon (I found 2″ balls, 12 for $6.80; or 3″ balls, $39 for 50). Then go crazy with metallic paints, sequins, markers, stickers, stamps, etc to decorate. Unbend a paper clip (leaving one end bent for the hook) and push it into the ball, securing with a drop of glue from a glue gun, for hanging. Look up "styrofoam ornaments" on Pinterest for inspiration!
5. Clove orange. It may not last much past New Year's, but it will make your house smell great! Gail Bartel of That Artist Woman shares a step-by-step tutorial with pictures for turning and orange and some cloves into a delightful-smelling Christmas Orange Pomander ornament for the holiday season. Her kids have even turned it into an annual tradition. As noted in the comments on her blog, whole cloves can be found at very reasonable prices in the bulk foods section of many supermarkets.
What are your favorite handmade ornaments for the holidays?