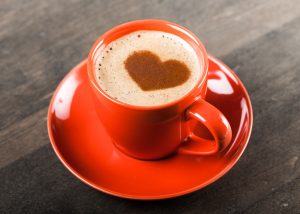 Making coffee at home is a huge money saver compared to buying it at Starbucks or another coffee shop. But JUST how much cheaper is it, really? And how much do those savings grow into if you invested it? We crunch the numbers so you don't have to!
How much cheaper is homemade coffee?
A medium cup of regular coffee costs $2.40 in my neck of the woods. I know it's cheaper at McDonald's, Dunkin Donuts, and other fast food joints, but I've drunk coffee from those restaurants, and it's not an experience I'd like to repeat. So call me a coffee snob. I can live with it.
How much does it cost to make coffee at home?
A pound of beans costs $14 from Starbucks, where a barista grinds it for my french press. (See? I'm not a coffee snob after all. Real coffee snobs grind their beans fresh before each cup. Ha!)
1 pound of coffee beans = 100 tablespoons of ground coffee
I use two tablespoons for each large cup of coffee. So that $14 pound bag of coffee beans makes me 50 CUPS OF COFFEE at a cost of $.28 per cup ($14/50 cups = $.28 cents).
I bought this stainless steel french press
years ago on Amazon. I highly recommend it if you're in the market. It's stainless steel so it never gets too hot to the touch and it has a double layer so it insulates my coffee really well, keeping it hot a very long time, as long as the lid is on. The only downside to this particular french press is that it only makes 24 oz of coffee at at a time, so not ideal for parties. And, of course, a standard coffee maker is going to be a whole lot cheaper!
I've owned my stainless steel french press for 9 years and I paid $45 for it. So that means an additional $5 per year for the cost of my at home coffee habit. That's less than the cost of two cups of coffee bought at a coffee shop, so basically negligible.
What are the yearly savings from drinking coffee at home?
I drink a cup of coffee most days and I drink a lot less coffee than other coffee drinkers. So let's do the math as if I had one cup of coffee every day.
Making my coffee at home for one year adds up to $.28 x 365 days = $102.20. Or, $8.52 per month.
Buying coffee once a day for one year adds up to $2.40 x 365 = $876. Or, $73 per month.
Making coffee at home every day saves me $773.80 per year.
That is a savings of $64.48 per month. Say you put those savings into a basic mutual fund and each month added an additional $64.48 that you saved making homemade coffee. How much would that turn into over ten years?
If the mutual fund average earnings of 6.50% interest and you compounded whatever you made (which means buying more mutual funds with the dividends), that measly $64.48 would grow into $10,981.93.
Did you realize drinking Starbucks was costing you $10,000?
I certainly didn't! But the cost of a daily habit adds up quick. I shudder to think of those with latte habits!
Save a little every month on coffee or another item you can make or do with out, and you'll end up with a lot more money in the long run. I mean $10,000 is nothing to sneeze at. And compounded with savings in other parts of your life, you're on your way to paying down your debt, or saving for retirement, or saving for a home…whatever you savings goal is!
Don't think of it as a privation. Think of it as MAKING MONEY. Because that is truly what you are doing. You are making savvy financial lifestyle decisions that are leading you to wealth. Saving money is making money, right?
Little steps mean big money down the road.
What's your coffee habit?