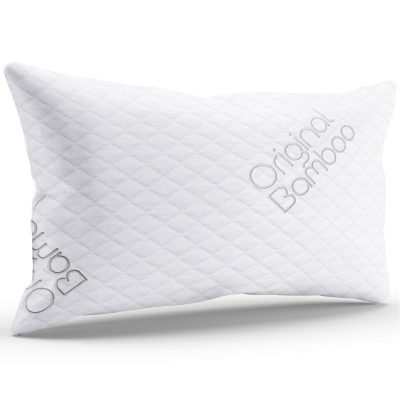 Would you like to improve your sleep quality? A new pillow sure couldn't hurt! Today only, get the Luxury PREMIUM Shredded Memory Foam Pillow for only $26.24. That's  a savings of 63% and this pillow has phenomenal reviews!
THE PERFECT PILLOW – Months of product testing and gathering customer feedback has revealed what it takes to make the PERFECT pillow. The Diamond Series truly is the best pillow on the market no matter who you are or how you sleep.

WHY THIS IS THE BEST – We developed the entire pillow from the bottom up. Our hypoallergenic cover was redesigned and strategically stitched to add extra support right where you need it. Our older inner cover was too stiff so we designed a stretchy, supportive inner cover to replace it. We even went as far as redesigned the zipper to make adjusting this pillow as easier than ever.

THE HEART OF THE PILLOW – The shredded memory foam is the most important part of every adjustable pillow and where a lot of companies get it wrong. We spent hours and hours cutting up pieces of memory foam by hand and tested hundreds of combinations of sizes and shapes to make this pillow the best pillow in the world. Our handcrafted mixture of memory foam provides more breathability, more support, and more comfort than any other pillow you will find.

SUPERIOR ADJUSTABILITY – Our blend of memory foam allows this pillow to be contoured to fit any sleeping position and adjusted in many different ways. You can mold the foam or remove some. Side sleepers generally prefer a more supportive, taller pillow than back sleepers so we made sure to generously fill each pillow to make it firm and supportive. If you are a back sleeper, or just want a softer pillow, you can unzip the cover and remove as much foam as you want to make it perfect for you.

5 YEAR NEVER FLAT GUARANTEE – We guarantee your pillow will never go flat like other pillows do. Even after machine-washing the pillow the memory foam will expand back to its original shape, just like when it was new. We are so confident that this will be the best pillow you'll ever find that if you find a pillow that is more comfortable than the Luxury diamond series pillows, we will give you your money back.
This post contains affiliate links.