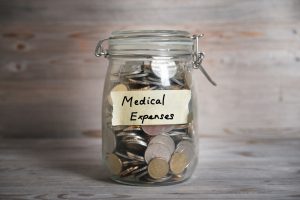 So you overestimated your medical expenses for the year and now you have FSA dollars to burn.  Nearly 10 years ago I had a sizable FSA surplus and bought so much cortisone ointment that we are still making our way through it. I'm sure it expired ages ago.
The good news? You didn't need as much medical care as you expected. That's priceless in my book. But since nobody likes to leave money on the table, here are 20 ways you can spend those FSA dollars before they disappear (without having to clear closet space for your new cortisone collection).
20 Easy Ways to Spend Your FSA Dollars.
1. First, give your body a tune-up. Get those teeth cleaned, have your eyes checked, get your annual physical. Make those appointments pronto because you're not the only one trying to squeeze in these visits at the last minute.
2. Want even more information on the state of your health? Full body scans, such as CAT scans or MRIs, are eligible expenses for FSA dollars. I suspect these give you just enough information to make you worry about something, but if you're cool and collected about these sorts of things (in other words, not me) this could be a good option for you.
3. When's the last time you had a tetanus shot? Are you still putting off the flu shot? Vaccinations are covered by FSA, so now's your chance to get up to date.
4. If you have a medical condition that's just not responding to Western medicine, you're in luck. Acupuncture and alternative medicine (if used to treat a specific condition) are FSA eligible expenses.
5. Do you like gadgets? Blood pressure monitors are FSA eligible, as are heart rate monitors (medical monitors, not FitBits). If you have a lot of money to blow,  go ahead and splurge on that defibrillator. You can always bring it out as a party trick.
6. You probably know that prescription eyeglasses are covered, but did you know that sunglasses, safety glasses, and goggles (as long as these all have prescription lenses) are also FSA eligible? If you prefer contact lenses, not only your lenses, but also the shipping costs, are qualifying expenses.
7. If you've been procrastinating on your emergency preparedness, take this opportunity to get (or put together) a first aid kit. First aid supplies (such as bandages) are eligible expenses, but first aid medications ( such as hydrogen peroxide or topical antibiotics) are only eligible with a prescription. In case you're wondering, no, it doesn't make any sense to me either. I guess they don't want you using pre-tax dollars to buy hydrogen peroxide that you're secretly using to color your hair.
8. If you're expecting a baby, did you know that lactation supplies (breast pumps, lanolin ointment, etc . . .) are FSA eligible? So are the services of a lactation consultant.
9. On the opposite end of that spectrum, condoms and contraceptives qualify for FSA reimbursement.
10. When my daughter was a toddler she was obsessed with this toy doctor's kit. The only problem was that the stethoscope was a total dud. All it did was make weak little heartbeat sounds. So we used our FSA dollars to buy a real stethoscope, which was a big hit with her and has actually been handy on a few occasions.
11. All of our thermometers drive me nuts. I swear they all give a different reading and I never know which one to trust. So I  like having several different kinds on hand to try to get some kind of consensus. Luckily I can use FSA dollars to fuel my obsession.
12. Orthotics! These are not covered by a lot of insurance policies so if you have problem feet this is a great use of your FSA dollars.
13. If your feet still hurt after you get your orthotics, you can spend your FSA money on "non-medicated" foot care products, such as callus removers.
14. It's cold and flu season, so everyone should have a neti pot (or two) on hand.
15. Smoking cessation products, such as gum or patches, and smoking cessation programs, such as counseling, are all FSA eligible. 
16. Get ready for summer with sunscreen as long as it's spf 30 or higher.
17. Rowdy neighbors? A snoring bedmate?  Use your FSA dollars to buy ear plugs.
18. Speech therapy is not covered by a lot of insurance policies so be sure to use your FSA dollars on this.
19. Stop grinding your teeth at night and spend your FSA money on a bite guard. Both prescription and over the counter versions qualify.
20. If you're trying to conceive, you might want to get yourself an ovulation kit with that FSA money.
A couple great places to spend those FSA dollars are fsastore.com and the FSA section of walgreens.com. Of course, all policies are different, so be sure to check your individual policy if you have any doubts about eligible expenses. 
How are you spending your FSA dollars?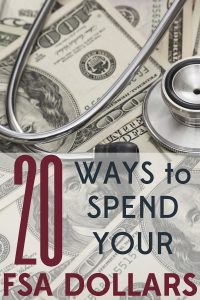 This post contains affiliate links.