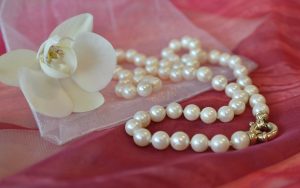 With Valentine's day just around the corner I've been indulging my love of jewelry by visiting tons of discount jewelry websites. There are so many options to choose from but it's hard to differentiate from good quality sites and scams. Here is a list of 12 websites that offer great deals on everything from costume to designer jewelry.
12 Best Websites to Find Inexpensive and Discounted Jewelry
1). PropertyRoom.com – PropertyRoom.com sells jewelry, electronics, coins, and even bicycles that were confiscated by cops and never claimed. Their jewelry selection offers a variety of items and prices, some were even as low as $1! The site is free to browse, though if you want to buy something you have to register. This website works like eBay where you bid on auctioned items.
2). BaubleBar.com – BaubleBar.com is one of my personal favorites. They sell costume jewelry that is great quality for the price. This site is also perfect for frugal shoppers because it rewards you for your purchases. For every $1 you spend you get 1 point. 10 points =$1 towards another purchase. You can also score 150 points for referring friends who make a purchase! They jewelry options range in price from $10 to over a $100. Right now they're offering 20% off any full price purchase if you sign up on the website with your email.
3). Etsy.com – How could we not include Etsy? From one of a kind artisanal jewelry to custom pieces to vintage treasures, you can find just about anything at Etsy at prices that are sure to beat large retailers.
4). UrbanPeachBoutique.com – This is another site where you will find inexpensive costume jewelry.The jewelry runs from $10-$20 and you can score even cheaper deals on sale items. There are items as low as $6 and they frequently offer great sales and promo codes.
5). Bidz.com – In order to view items and bid on this site you have to register (this means providing your email and creating a username/password). There are a ton of options to choose from and bidding is very easy. This site also has an A+ rating from the Better Business Bureau so it should be very reliable.
6). RueLaLa.com – RueLaLa.com is a great site to find sales on big brand name items. Today, Feb. 4, they have a sale on Swarvoski jewelry. The prices on this website aren't as low as some of the others but because of the brand names you know that these are high-quality items. The brand names and deals change daily but there is usually at least one name brand jewelry carrier available.If you're looking for a special gift for a loved one (or for yourself) this is a great place to visit.
7). BeyondTheRack.com – This website is also a deal website. Currently, they have a sale on promise rings for Valentine's Day. The deals are at least 50% off and vary daily. To access this site you also need to make an account. While I haven't purchased jewelry I purchased high thread count sheets for Christmas and they were great quality. The deals are definitely worth creating an account.
8). Amazon.com – Amazon is a awesome place to find deals on many items and this includes jewelry. Their lightning deals can be up to 80% off and I've always been happy with the jewelry I've bought from them. I also love how Amazon offer reviews of their products so you can make an informed decision about your purchase.
9). TopShop.com – This website offers costume jewelry that ranges in price from about $10-$100 per item. The website offers discounts frequently and their sale page has items that are over 50% off. This site also has star rating and reviews just like Amazon. Sweet deal!
10). Ice.com – Ice.com is a great site to find discounted fine jewelry. This site also has a wide range of prices that can be anywhere from ten to thousands of dollars. This site is great because it allows you customize your search by price point, style, type of stone and more. Their clearance page has a wide variety of options and offer huge discounts. There are items up to 75% off.
11). Gilt.com – Gilt.com is the site to visit for high quality name designer jewelry. Brands on this website include Bulgari, David Yurman, Chanel, Cartier and many more. Their price range is truly huge with item as low as $12 and up to $37,000! I don't think I'd ever purchase an item over a few $100 online but Gilt.com is well-known and has great reviews. 
12). Overstock.com – Overstock.com offers a wide range of jewelry options. They have everything from costume jewelry to diamond and fine jewelry. The savings they offer are huge, I've seen up to 69% off. Even better, they show reviews of products just like Amazon. It really helps you to know what you're getting. Just glancing over this site I fell in love with about 100 pieces of jewelry. This site may be dangerous for your bank account, be warned!
I have to admit that I've bought the majority of my jewelry on impulse while shopping. Seeing all these deals on beautiful items is really making me rethink my jewelry shopping strategy. Do you have any secret tips or favorite websites? Fill us in the comments!
Where did you score your best jewelry deal?