Ever eaten at a Vegas buffet? One reader, known as The Unethical Man, is a Vegas regular and in addition to his tricks for a cheap Vegas vacation, he ate $100 worth of buffet meals FOR FREE. Here is his story:
Hi Julia,
It's been awhile since I've had anything significant to share with you, but I just scored an awesome deal during my latest trek out to Las Vegas, and I think you'll want to know about it.  It's called the Buffet of Buffets pass by Caesar's Total Rewards program.  This is a $49.99 value if purchased Sun-Thurs or $52.99 if purchased Fri-Sat.  This deal gives you a 24hr pass to all the buffets at six Total Rewards casino properties in Las Vegas: Rio, Planet Hollywood, Flamingo, Harrah's, Paris and The Quad.  For an extra $10, you can also gain entry to the Village Seafood buffet at the Rio.  And if you want access to the Bacchanel buffet at Caesar's Palace, you will also need to pay a little extra for the upgraded pass.
Let me start at the beginning.  About 3 months ago, I received an offer in the mail to sign up for a Total Rewards visa credit card.  I receive several pre-approved credit card offers each month.  Normally, I glance at these offers and shred them.  I am happy using my cash back rewards credit card, and wasn't looking to add more cards.  But this one stood out from all the other solicitations.  Total Rewards offered the same perks of any other credit card offer such as no annual fee.  Instead of cash back, you can earn up to 5X rewards credits for certain purchases.  Once you have earned enough points on your account, you can redeem them from a pre-selected catalog of goods.  TR will give you up to 10,000 reward credits as a bonus after successfully signing up provided that you spend at least $750 within the first 90-days of receiving the card.  That 10,000 reward credits is enough to purchase a lot of things in the catalog including $50 gift cards to several major retailers.  This particular item really caught my eye.  I knew that I would have no problem spending $750 on things I need to buy anyway.  Just paying one DWP bill consumed nearly $200 of the minimum requirement.  The rest would be spent on food and sundries.  In addition to the 10,000 bonus credits, I would receive a free voucher to their Buffet of Buffets pass good for two people (a $49.99 value).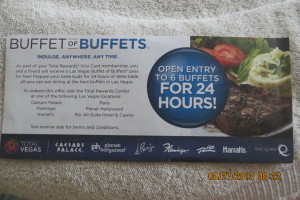 Image at left shows you what the voucher looks like.
I so decided to accept their offer, and I received my card in the mail within a week.  My Buffet of Buffet voucher was included within the envelope and I immediately put it in a safe place.  The voucher expires 6mos after card activation, so I just needed to be sure to use it within that time frame.  This would be fairly easy for me since I receive at least one free room offers per month on average.  I satisfied my requirement to spend the $750 minimum to earn the 10,000 bonus reward credits.  Once I hit the $750 mark, I paid off the entire balance in full and on time so I didn't accrue any interest or late fees, then I put that card away and went back to using my cash back rewards card.
I few days ago, I accepted a two free room nights offer from a different Las Vegas casino property.  Before heading out, I researched the different eligible buffets the buffet was good for and discovered that out of all of them, the Spice Market Buffet at Planet Hollywood was open until 11pm.  All of the other buffets closed at 10pm.  Many people might have the mind set that this voucher will be used for breakfast, lunch and dinner.  But the 24hr time limit starts the moment you redeem the voucher..  By using the it right away to eat a late dinner at the Spice Market buffet, I was assured of getting at least four meals with this voucher.  The other benefit with getting the Total Rewards credit card was that it automatically gave me a Platinum Tier member status which allowed me to go through the special express entrance for only Platinum and Diamond members, bypassing the regular line for gold members and non-members.
The Spice Market dinner buffet was $29.99.  The regular line was really long, but there was no one waiting in the Platinum members line, so I was helped almost immediately.  My new higher status really paid off here saving me a long wait.  They even stamped my receipt with a VIP stamp, which I thought was pretty cool.  It goes without saying that the quality of food at all the Vegas buffets I have ever had are excellent, and the taste and selection at the Spice Market Buffet was no exception.  But their biggest draw for me was their dessert station.  Cotton candy is one of those few items that takes me back to my early childhood.  It's a treat that I don't encounter very often unless we went to an amusement park, carnival or circus.  And this particular buffet made their own fluffy cotton candy fresh on the spot.  Their soft serve ice cream was also excellent.  Let's just say I had more than one.  Sorry, no images because my fingers got rather sticky from pulling on the cotton candy, and I didn't want to transfer that to my camera.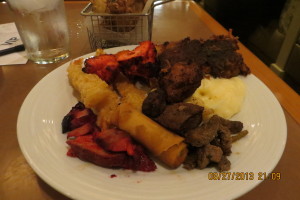 Image at left shows you my dinner plate at the Spice Market buffet.
I woke up early the next day and headed to Harrah's Flavors buffet for breakfast.  They had a completely separate entrance for Platinum and Diamond members, which I thought was really cool.  I felt really privileged to use it.  They even had a special section for us to dine in which was something The Spice Market buffet didn't have.  Normally, when I go to a buffet, I want to get my money's worth.  But to be completely honest, I wasn't very hungry.  My body was still working on everything I ate the night before.  But I wanted to make the most out of my 24hr buffet pass, so I helped myself to a few of the nicest goodies they had to offer.  The cinnamon roll came from a freshly baked pan and was super soft and gooey and delicious.  The cost of the Flavor's breakfast buffet was normally $17.99.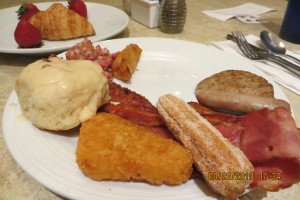 Image at left shows one of my breakfast plates and dessert plate at the Flavors buffet.
I went to the Flamingo's Paradise Garden buffet around 1pm for lunch.  They had a separate line for the Platinum and Diamond members, but there was no one standing in any of the lines, so it didn't really matter.  I wasn't particularly hungry, and the image of my plate proves it.  Gotta love the rice crispy treats.  I was done in 15-minutes which is unheard of at a buffet.  The lunch price of this buffet was $19.99.  If I didn't have the BoB pass, I would not have spent $19.99 to eat here.  The value wasn't there based on the amount of food I ate.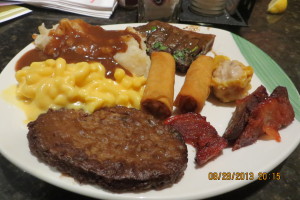 Image at left shows my meager lunch at the Paradise Garden buffet.
For dinner, there was only one choice for me.  My original plan was to eat dinner that the Rio's Carnival World buffet from the beginning.  The only reason why I went to the Spice Market buffet the night before was because they were open an hour later than every other buffet.  The rule of the BoB pass is that if you try to enter a buffet once the 24hr period is up, you will be denied entry.  No exceptions.  I got to the Carnival World buffet around 8:30pm, and I was confident that I would be admitted because I didn't redeem my voucher until just before 9pm the night before.  The cost of this buffet at dinner time was normally $30.99.  The Carnival World buffet had a completely separate entrance for Platinum and Diamond members.  I walked right up to the cashier and received a very friendly and welcoming greeting.  I was seated right away, and their dining area was much more segregated than the Flavors buffet.  All of their booths were arranged in a circular pattern and had really high backrests to create a kind of wall that completely blocks your view of the rest of the place.  I love the Carnival World buffet, and have eaten there from time-to-time.  They never disappoint, and I had an appetite.  This particular buffet has such a diverse selection of food from around the globe that it took me two separate trips to fill my dinner plates and sample everything my eyes wanted.  Everything was delicious, but the macaroni and cheese was particularly good.  In fact, it was excellent.  The prime rib was also very good.  As far as the dessert station goes, it didn't have a wow factor for me.  It didn't have cotton candy, rice crispy treats, glazed doughnuts, glazed twists or white chip macadamia nut cookies.  But their gelato ice cream was very good and creamy.  Despite my lackluster opinion of their dessert station, I still think that the Carnival World buffet is arguably one of the best buffets in Las Vegas.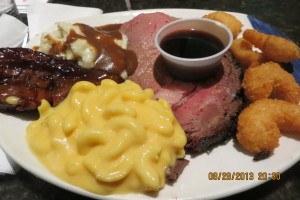 Image at left shows dinner plate No. 1. A picture of my second dinner plate and dessert plate at the Carnival World buffet are not shown.
So my plan to get maximum value out of the BoB pass turned out just as I had planned.  I was a very satisfied man.  At $49.99, the Buffet of Buffets pass is a good value if you're the kind of person that has a hearty appetite.  Even if you only go to two buffets within the 24hr period, you'd be getting a deal since the pass is good for two people.  The way I went about it, I managed to get four separate buffets at four different casino properties at a combined value of $98.96 (not including tax) for free.  I did leave tips at each place, so it wasn't totally free, but you get the point.
Final note – I am not advocating that anyone interested in doing what I did to sign up for a Total Rewards credit card.  I am not affiliated with them in any way.  I'm not being paid in any way to say these things about it.  This report is for informational purposes only.  Just because it all worked out for me, doesn't mean this is the best path for anyone else.  Signing up for a new credit card is not a frivolous matter.  The decision to apply for one should be taken very seriously and, if approved, used responsibly.
The Unethical Man