This is a guest post from a longtime BargainBabe.com reader who works as a dealer in a casino and has been to Sin City more than 72 times. 
Even when the economy is as poor as it is right now, people want and need to escape from the daily grind from time-to-time. A favorite destination for many is the glitzy city of Las Vegas. I am no stranger to the city having been there scores of times traveling with friends or alone, and on business or just for pleasure. Whether you're a Las Vegas veteran or a first-timer, a gambler or non-gambler, I have some tips that should make your next stay in Las Vegas a lot more rewarding and save you money.
17 Tips for Saving Money in Las Vegas
TIP 1–Once you've made up your mind that you're going to spend a little time in Las Vegas, the very first thing you should do is to get an annual membership with the Las Vegas Advisor. For as little as $37, you can get a 1-year online membership to this wonderful and vastly knowledgeable publication and get the latest inside scoop on what's happening in Vegas. The best part of the membership is the Member Rewards coupon book. That's right, coupons for Las Vegas.
Most people don't think of using coupons beyond the grocery store. Time to think differently. The coupons in this book aren't cheesy. It is loaded with food freebies, souvenir freebies, match plays, free slot plays, BOGO buffets, BOGO hotel stays, BOGO show tickets and a whole lot more. Even if you end up only using a fraction of the coupons, you'll save hundreds of dollars and you can also win hundreds of dollars if you get lucky using the match play coupons. Coupons for gambling? What will they think of next?
The other publication worthy of investing is the American Casino Guide, published annually. Not only does the book contain a generous section of Las Vegas coupons, but it also provides a lot of interesting reading about all the other casinos across the country. The book has a retail price of $18.95, but I got my 2009 edition through eBay for about a third of that cost. I highly recommend getting this book too and using it in conjunction with the Member Rewards book. Just for the record, you might be able to get a Member Rewards coupon book on eBay too and save some money. But I like having the online membership because it updates the changing face of Vegas every month, saves me time searching for the best deals and the best places to play and you can get special online coupons as well.
*IMPORTANT NOTE–Do not tear out any of the coupons you intend to use out of the book until you are ready to use them and only in front of the casino employee. If you try handing them just the coupon without showing them the book it came from, most likely, they'll refuse to honor it.
TIP 2–If you followed my advice on step 1, now you're invested. N
ow you need to figure out when to go. Generally speaking, you'll find the best hotel rates during June – September when it's Africa-hot out there and December – February when the outside temps lick your skin at around the 40's and low 50's. From my point of view, if your plan is to stay inside the hotels at least 90 percent of the time, anytime of the year is a good time to go to Las Vegas. You should definitely avoid going during national holidays especially New Years. Not only does the price of a room increase by 5x, but everything else increases too. Buffets and restaurants cost more, shows will cost more and gambling will cost more because the properties increase the minimum allowed bets on all their tables. Also, avoid going to Vegas on the weekends if at all possible. Even on non-holidays, weekend prices are about 1.5x to 2x higher than on the weekdays. To get the best hotel rates, you need to stay anywhere from Sunday – Thursday.
TIP —Once you've decided when you want to go, you must decide where you want to stay. To get the best rates on hotel rooms, don't be dead set on staying right on The Strip in a brand new megaresort. Be open to staying off-strip or downtown Las Vegas. The older and smaller hotels must be a lot more aggressive in their campaign to draw in visitors and the best way to do that is by lowering prices on rooms, food and offering discounted show tickets. If you've been to Las Vegas many times already like I have, staying in a smaller hotel out of the way is no big deal. After all, you only need the room to put your stuff in, shower and sleep. The majority of the time, you'll be out and about hopefully having the time of your life.
However, if this is your very first time out to Las Vegas, the added value of staying at Strip hotel is incalculable. You just have to decide what is a good value for a room per night. For some people, $100 may be most they are willing to pay per night. For others, $50 may be the most they are willing to spend. I'm spoiled. I have received many comped room offers that I don't like paying any amount for a Vegas hotel any longer. But when a comp offer isn't extended, I try to find the best deals in town.
So far, I have been to Las Vegas three times in 2009 already and plan to go a fourth time mid-December. The first time I went, I used the BOGO coupon for the El Cortez in downtown Las Vegas, and my hotel bill only came out to $33.00. This was for two nights. My second trip, I booked two nights online through a discount travel company promising $20 per night at the Wild Wild West located about 1-mile off-strip on Tropicana Blvd. My total bill for two nights came to $54.40 because the hotel still added basic room fees which I thought was a rip. I won't be using a travel service or staying at the Wild Wild West again.
On my latest trip to Vegas, I stayed at the fabulous Mirage which is located smack dab in the middle of the Las Vegas Strip. I stayed for 3-nights, and when I checked out 3-days later, my total bill for the room was $0.00! How is this possible? I think the current state of our economy has a lot to do with it. Hotel reservations in Las Vegas are at an all-time low right now as more and more people choose to curtail their traveling expenses. Therefore, hotels are lowering rates and offering deals to entice customers to come out.
TIP 4–Once you have determined when you're going and where you'll be staying, it's time to make your reservation. Whether you're traveling alone or going as a couple, I always request a non-smoking room with two queen beds as opposed to a room with only one king-size bed. And, I always tell them that there will be two adults even if I plan to travel alone since the room is the same price for one or two persons. This way, if a friend or two decides to join me, they'll have a bed all to themselves.
TIP 5–Decide on how to get there either. Car or plane? I consider myself to very lucky to live close enough to Las Vegas that I have a choice whether to drive or fly. I have done both, and there are pros and cons to either option. Personally, I like to drive because it offers the most freedom, flexibility, fun and I believe it is the most cost-effective means of transportation. I drive a 2006 Honda Civic LX which gets pretty good gas mileage on the highway. Not only is my 11-gallon gas tank more than enough to get me to Vegas without refueling, once there, I still have enough juice in the tank to drive around the city for an additional 60-75 miles more. On my last three trips to Vegas I spent $37.50, $46.51 and $48.49 in gas respectively.
By comparison, the cheapest roundtrip ticket from Southwest Airlines is $139.20 including U.S. taxes, PFC and Security fees. Some of my friends argue that flying takes a lot less time which is true if you're just considering the time the plane takes off and lands. But when you factor in the additional hour or two to allow yourself to get through the ticket counter and security screening, boarding process, taxiing on the tarmac, deplaning process and taking a taxi or shuttle to get to your hotel, I figure the disparity in travel time by flying versus driving is not so different. In addition to the plane ticket, you will incur the added costs of taxis, monorail, buses or car rental to get around the city.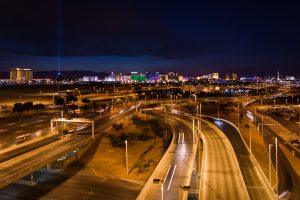 Some of the pros to driving is being able to go where you want when you want, blast the stereo as loud as your ears can stand it and being able to crank up the A/C. Some of the cons to driving is putting wear and tear on your engine and tires. You also risk getting stuck in a traffic jam, getting into an accident yourself or sustaining some type of mechanical failure. If you have the need for speed, you risk getting an expensive ticket. Once in Las Vegas your car is at risk of being vandalized, burglarized or stolen completely. Some of the advantages to flying is not worrying about speed traps, falling asleep at the wheel and arriving without fatigue. Some cons would be possible flight delays, flight cancellations, overbooking, unruly passenger and mechanical failure in the air. A third option would be to book passage on a guided tour bus, but I imagine that you lose a lot of personal freedom in doing so.
TIP 6–Part of the fun in a getaway to Las Vegas is the spontaneity, letting go of your inhibitions and pretending to be someone you're not. However, to take maximum advantage of the coupons, you need to spend some time carefully mapping out the places you're going to hit and in the order you're going to hit them for maximum efficiency. Many of the coupons are for off-strip casinos, and casinos located several miles north of downtown Las Vegas. Their juicy coupons make it potentially profitable and thus worthy of your time. It's easiest to divide Las Vegas into smaller manageable sections. The two primary areas are The Strip and downtown. If you're staying downtown, it's very easy to utilize all of the coupons there in a couple of hours. Then plan to hit all of the small casinos located north of downtown. If you're like me and plan to visit Vegas three or four times a year, you can do a coupon run on a small section on each of your trips rather than trying to do it all at once. If you're only planning to go once a year, then it's up to you to decide which coupons you're going to use based on its value and convenience of use.
TIP 7–Traveler's checks or cash How much money to take with you is completely subjective. It really depends on your budget and the type of person you are. For me, a budget of $500 a day is my average. $100 for blackjack, $100 for video poker, $100-$150 for live tournament poker and $100-$150 for live cash game poker. If I don't lose my entire budget for any of the days I am there, I don't exceed my maximum budget for any of the remaining days. This way, I am assured of coming home with some cash. This takes a lot of discipline but it can be done. I should take traveler's checks for further protection, but Vegas is so close to home that I admit that I just take cash. Take only one major credit card with you. Leave extra credit cards at home as well as your ATM card. If you have the knowledge that you don't have easy access to your bank reserves, then it'll help you stick to your daily allotted budget for gaming.
TIP 8–The day before your trip, call the hotel to verify that your reservation hasn't mysteriously disappeared. If you're going in the summertime, flip-flops seem to be the logical choice in footwear. But speaking from experience, if you plan to do quite a bit of walking, pack a good comfortable pair of walking shoes. You and your feet will thank me afterward. Pack a pair of scissors.
TIP 9–If you get a chance to go to Vegas very often, I recommend heading out as early in the morning as possible. This accomplishes several things. First, you will avoid the morning commuter rush as you head out of the city. Second, knowing that you're going to arrive in Las Vegas well before you'll have the chance to check into your room, you won't be prone to speed as much and risk getting a ticket. Generally speaking, the highway patrol will leave you alone if you keep your speed within 10-miles of the posted speed limit. I am not condoning speeding of any kind, but based on experience, I haven't had to worry about getting a speeding ticket going 80 mph out in the open desert. I prefer to drive to Vegas non-stop, however a good rest stop is Barstow.
TIP 10–When you arrive at Tropicana Blvd, you're first instinct is to get to your hotel. But most casinos don't allow you to check in until after 3pm. Instead, use one of the BOGO buffet coupons and eat lunch. Afterwards, walk around a little and take in the sights. Stretch your legs and back. The city's skyline changes daily. Undoubtedly, you'll see a lot of new things that weren't there the last time. If you are concerned with leaving your luggage inside your trunk, you can leave them with the hotel's bell captain, and they'll store them for you safely until you're ready to check in. I actually recommend checking in late by several hours. Why? There are two main reasons for doing this. One, you will avoid the crowd and use your time better doing other things than just standing in line. Two, by checking in late, there's a possibility that your room preference may have a ll been given to other guests. This happened to me a couple times at Caesar's Palace, and the hotel was forced to give me a free upgrade to a nicer bigger room than I was originally booked for.
TIP 11–Once inside your hotel room, take a refreshing shower and decompress for about 30-minutes on top of the bed. Be careful not to fall asleep. You don't want to waste you first evening there. The goal is to take a short rest only. Set an alarm just to be safe. If there are magazines in your room, check them out. Often times, there are valuable coupons inside, and you can clip them out easily with the scissors I told you to pack earlier.
TIP 12–Most casino buffets close at 10pm, so if you intend to eat dinner at a buffet make sure to show up no later than 9pm so you still have your pick at a full selection and the staff is still bringing fresh batches of food out. If you arrive after 9:30pm, chances are you'll be stuck picking through what's left. The staff is busy breaking things down at this point and no longer restocking food.
TIP 13–Hopefully you're aware that there's a ton of things to do in Vegas besides gambling If you know where to go, you can ride in a gas-powered go-kart on a real go-kart track off-strip. You can also do indoor skydiving and shoot a real fully automatic machine gun in an indoor range. Properties such as New York New York, Excalibur, Luxor, Sahara Circus Circus sports and The Stratosphere sports some very good roller coasters and other adrenalin junkie thrill rides and exclusive IMAX movies. All of these activities, of course, cost money. But there are plenty of things to see in Vegas absolutely free.
1. The Fountains of Bellagio are my favorite. I just marvel at the water-jet technology synchronized to music. After 8pm, there's a show every 15-minutes. But each show lasts between 4-6 minutes, so the actual wait time between shows is only 10-minutes on average. The last fountain
show is midnight. And it's all free.
2. The Mainstreet Experience downtown is my second choice Starting at 8pm and every hour on the hour until midnight, you will be treated to the largest video display in the entire world. The dedication to Queen is my favorite show. I think it's the one at 10pm.
3.Rio's Masquerade Show in the Sky is a free spectacle for the senses. Colorful, wild and wacky.
4. Free circus acts at the Circus Circus.
5. Sirens of TI.
6. The Volcano at the Mirage.
7. Lost City of Atlantis show in the Forum Shops in Caesar's Palace.
8. The fabulous Las Vegas Strip itself.
TIP 14–If you do intend to gamble, there are three hard rules you MUST follow.
1. Do not gamble with money you cannot afford to lose either financially or emotionally.
2. Make sure you understand all the rules of the game you're playing, and how your bets are paid off.
3. Never play when you're tired, drunk or ill.
Gaming tips.

1. Treat gambling only as a form of entertainment and have a good time. Leave all aspirations and dreams of breaking the bank at home.
2. Realize that all of the games has a built-in mathematical house advantage. If you think you've discovered a foolproof system to defeat the math, you haven't. Why do you think Las Vegas continues to develop and grow?
3. Before you spend a penny playing slots or table games, make sure to sign up at the property's player club first. In addition to the house's built-in mathematical edge, the casinos' greatest advantage over the players is time. Any one can get lucky in the short term, but the longer you sit there and play, the casino's advantage comes into play. Therefore, if you are going to give the casino some playing time, you should take advantage of their rewards program. This is how they are able to rate you as a player and know when to extend you a special offer or a comp. I was sent the Mirage's special offer simply because they had my info in their player database. It's prudent, especially in the information age, to protect your identity. Casino properties are one place where I don't mind them having my information. In fact, I want them to have my information.
4. If you have a match play coupon, use it. If you don't know what a match play is, I'll explain. By using the coupon with a $5 wager on blackjack, if you win, instead of winning $5, you'll get paid $10. You win $5 from your wager and the coupon pays you an additional $5. If you lose, you just lose the $5. Some match plays are as high as $25. This is an extremely good value for the customer.
5. You should always have an exit strategy and be disciplined enough to exercise it when it's time.
TIP 15–If you want to take in a genuine Vegas show, go see one of the afternoon shows as opposed to an evening show. They are plenty good and vastly cheaper than the casino's headliners. Some afternoon shows are under $10 per person and most others are under $20 per person using a BOGO coupon.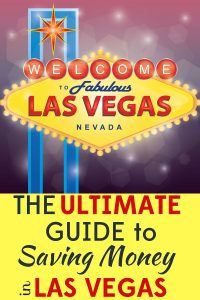 TIP 16–Don't bother with any breakfast buffets. There's usually not a big selection, and you often get what you paid for. The Terribles Casino's breakfast buffet is only $4.99., or $2.50 apiece if you use a BOGO coupon. It's much better to wait until 11am when most of the casinos change to the lunch menu. The lunch menu offers ten times the variety and hardier dishes. Many lunch buffet selections are hard differentiate from the dinner buffets, so they are the best buffet value in town.
TIP 17–Each morning, before leaving the room, I put all of the unused soap bars, lotion, shampoos and conditioners in my bag. This will force house keeping to restock these items each day they clean the room. Don't assume that they'll do it automatically. Policies and procedures are different for each property. Rather than take the chance, remove all doubt by stowing the items out of sight. And on the last day, I also take the box of tissues and the fresh unused roll of toilet paper. I know this sounds like a sleazy thing to do, but technically you are already being charged for these amenities anyway.
If you apply some of these tips to your next Vegas vacation, hopefully you'll get a lot more out of it and maybe even a greater return.
For additional information: Visit TreasureIsland.com, where you can make reservations to Treasure Island Las Vegas hotels.