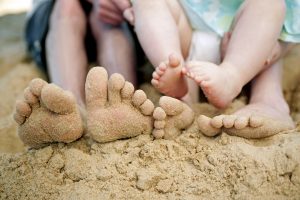 It's hard to believe but the end of the school year is not far away. Parents are starting to make plans about what to do with their kids during summer break. For many, taking a vacation with their kids is financially out of the question. Summer camp might be possible for a week or two. If you don't want your kids vegging in front of screens the entire summer, here is my list of 100 frugal and fun projects and adventures you can create with your family.
Cover your sidewalk with chalk art.
Sell lemonade from your homemade lemonade stand.
Make jewelry out of noodles.
Finger paint.
Find cheap or free clothing and accessories to fill a costume box.
Plant a garden.
Go to museum free days.
Hike.
Go camping.
Visit the parks.
Learn a new word a day.
Go letter boxing (treasuring hunting without a GPS).
Try geocaching (treasuring hunting with a GPS).
Create a scavenger hunt.
Make and cook in a solar oven.
Visit a nursing home.
Mow lawns (neighbors or your own – for free or a fee).
Wash cars (see 18).
Make and blow bubbles.
Play in the mud.
Visit libraries.
Go to free concerts.
Make ice cream.
Make butter.
Bake bread.
Give yourselves avocado facials.
Learn to knit.
Adopt a highway.
Volunteer for Habitat for Humanity.
Go to free movie screenings.
Visit your local farmers' market.
Participate in a flash mob.
Swim in your public pool.
Make sand castles at the beach.
Attend free lectures.
Assist in painting a public mural.
Make and throw seed bombs.
Do some click schooling.
Join a public garden.
Go window shopping.
Rearrange a room.
Write, direct and perform a play… in your living room.
Raise money for a charity.
Learn to properly put air in your tires.
Make a pretend grocery store.
Buy electronics at yard sales and then take them apart.
Learn photography.
Learn a foreign language. Learn to speak Japanese for beginners.
Make pudding.
Make something and then sell it.
Organize a block party and meet your neighbors.
Learn the alphabet backwards.
Sing in the rain.
Watch free rehearsals of your local orchestra.
Visit a stone quarry.
Go to and/or organize a swap.
Correspond with pen pals.
Take advantage of free bowling for kids.
Plan a family fun night.
Make a new family tradition.
Make a video of your kids interviewing you about your life.
Plant a tree that you will take an annual family picture in front of.
Learn to say "thank you" in at least 10 languages.
Bake an apple pie from scratch.
Visit the oldest house in your town.
Visit the oldest person in your town.
Volunteer at a food kitchen.
Visit your chamber of commerce.
Be an "extra" in a film.
Tour a factory.
Visit an artist studio.
Watch a tree specialist cut down a tree.
Watch the cake makers at a big box store decorate the cakes and cookies.
Volunteer at a local theater.
Help someone find a lost pet.
Make garden stepping stones.
Get a large cardboard box from an appliance store and let your imagination run wild.
Learn about another culture.
Go star gazing.
Make compost and use it in your garden.
Pretend you are having dinner at a very fancy place.
Have a tea party.
Make scrapbook pages for each year or decade of your life.
Write to your favorite hero and thank them.
Wait at the stage door of a theater and get an autograph.
Make and give a May Day Basket.
Make cookies and take them to your local fire fighters.
Make and fly a kite.
Pack a picnic basket and go on a picnic.
Take a picture each day and make a summer photo album.
Sing rounds.
Tell everyone in your family, at least once a day, that you love them.
What are your favorite summer family activities?