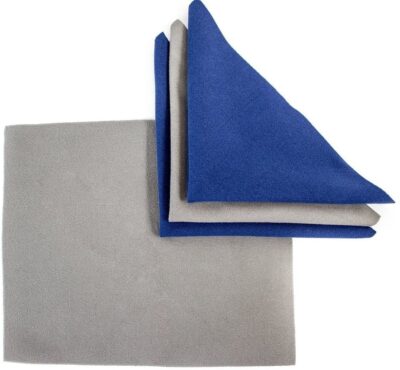 The perfect cleaning clothes for your smartphone, tablet, screens, glasses or any other delicate surface. No cleaner needed; just simply wipe and the surface is magically cleaned of all dirt, dust and smudges. Safe for all lenses and surfaces and does not leave any lint, streaks or residue. Excellent value for the money since they are machine washable, long-lasting and re-usable. Apart from all this cleaning technology, they are also hypo-allergenic. Keep your iPhone, Android, Kindle or other device clean and clear with these cost-friendly microfiber cloths. Click here for the Zwipes 756 Premium Microfiber Cloths – For Screens, Lenses, iPad, Nexus, Tablets, iPhone, Phones, Laptop, LCD TV and other Delicate Sufaces (8-Pack), only $2.99!
8-Pack Premium Microfiber Suede cleaning wipes (6.5 inch by 8 inch) that are reusable, long lasting & machine washable

Ultra gentle! Extremely fine lint free microfiber that leaves zero scratches, streaks or marks. Safe for all surfaces and lenses.

Great for removing dust, dirt, oil, smudges & fingerprints on cell phones, electronics, computers, watches, digital cameras, DSLR lens, eyeglasses.

Also used to polish stainless steel kitchen products & appliances, wine glasses, silver, silverware, tableware, barware, stemware products.

Can be used both dry or wet, with or without chemical detergents or sprays; the microfibers are especially effective at trapping grease, dust and other particles, enabling you to wipe off fingerprints and smudges with unmatched ease
This post contains affiliate links.