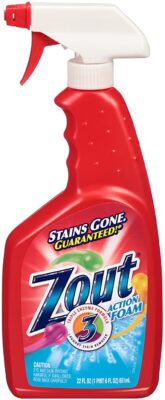 ZOUT brand is the original stain remover that was developed in the early 1960s as a professional cleaning solution for doctors' and nurses' uniforms. Today, ZOUT brand has been engineered with advanced Triple Enzyme Formula for a wider variety of fabrics and stains. Click here to get the Zout Triple Enzyme Formula Laundry Stain Remover Foam, 22 Fl Oz for just $3.08!
The first enzyme helps remove tough protein stains such as blood, grass and sweat

The second enzyme works on starch stains like tomato & bbq sauces

The third enzyme targets oily stains like salad dressing, and margarine
Remember, Amazon prices can change at any time.
This post contains affiliate links.