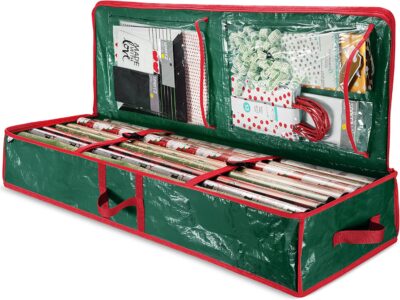 Save on Zober Holiday Decoration Storage Solutions!
At Zober, we understand how difficult it can be to keep a tidy home. This is why we have developed products that aid in the decluttering and organization of every home. Each item is meticulously crafted with the user and their home in mind. The end product results in items that maximize space, simplify organization, and take the guesswork out of keeping a neat home. Get this ZOBER Underbed Gift Wrap Organizer, Interior Pockets, fits 18-24 Standard Rolls, Underbed Storage, Wrapping Paper Storage Box and Holiday Accessories, 40" Long – Tear Proof Fabric (Green) for only $7.99. 
Sturdily constructed of tear and waterproof polyester material fabric to effectively shield and protect your gift wrap from lights from dust, insects, and moisture.
Straps will embrace your rolls of ribbon, ensuring they remain stable and don't slip. As the roll dwindles, and you find your wrapping paper becoming flimsy, simply tighten the straps.
Our user-friendly Zober bag features a dual zipper that allows you to open the organizer widely for effortless gift wrap placement that won't damage or rip your precious Christmas gift wrap.
2 clear plastic pockets with velcro-closure offer easy to see, safe storage for wrapping tools and accessories such as bows, ribbon, tape, and scissors.
This post contains affiliate links.