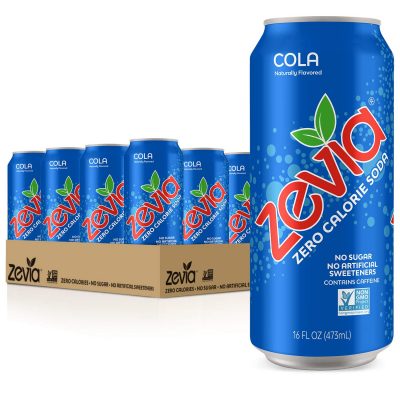 Zevia beverages offer bold flavors that you will love, without the harmful stuff found in traditional sodas and typical sugary carbonated beverages. All Zevia beverages are zero calorie and zero sugar with no artificial ingredients, without sacrificing fun or flavor. Sweetened with the miracle that is stevia leaf, Zevia sodas, energy drinks, sparkling waters, and mixers offer delight the natural way. Click here to snag the Zevia Cola, Zero Calorie, Zero Sugar, Naturally Sweetened, Carbonated Soda, Refreshing, Full Of Flavor, & Super Tasty, 16 Fl Oz Can Each, Pack of 12 for only $13.28. That's the best price on record!
CITRUS AND SPICE: Zevia Cola delivers all the things you like about traditional cola, with zero calories, no sugar, & nothing artificial. With the perfect combination of flavors, you'll be reaching for a second can of this healthier diet cola alternative.

ZERO GUILT: Zevia Zero-Calorie Cola Soda is always refreshing, full of flavor, and tasty. It's the naturally sweetened bubbly choice you and your family crave that has zero calories, zero sugar and zero artificial sweeteners so you're full of good choices.

JOIN THE MOVEMENT: Whether you're craving a burst of sweetness, a bubbly treat, drink mixer or a guilt-free beverage for movie night, Zevia's got you covered. Enjoy the anytime convenience of a calorie-free, sugar free, naturally flavored soda any time.

THE SMART CHOICE: Zevia's Cola is zero calorie, sugar free, clear in color, gluten free, Non GMO Project Verified, kosher, and vegan. Try it as a natural alternative to traditional diet sodas for a bubbly, guilt-free sweet treat with nothing artificial.

ZEVIA QUALITY Compare Zevia carbonated drinks with other brand varieties like Diet Pepsi, Pepsi Zero, Mountain Dew, Mug, Izze, Diet Hansen's, Mist TWST, Diet Cherry Coke, Coke Zero, Squirt, A&W, Crush, Perrier, S. Pellegrino, La Croix, Shasta, Bai, Steaz
Remember, Amazon prices can change at any time.
This post contains affiliate links.