Are you a homeowner? Does maintaining your home overwhelm you? Are you putting off taking inventory of your home for insurance purposes simply because it's too overwhelming? You need HomeZada.
Today we are giving away two HomeZada memberships
What is HomeZada?
HomeZada is zen for homeowners. It is a comprehensive website that helps homeowners track the contents of their property, and organize home maintenance projects.
So what can I do on HomeZada?
You can assign a task (inspect the exterior siding) to someone in your household (your husband).
You can watch how to videos and tutorials.
You can customize maintenance reminders. I deleted reminders related to a garage because we don't have one, for instance.
You can upload contractor details for a project.
You can store videos, documents, and receipts related to a project.
Watch this video about what HomeZada can do for you.
Is it overwhelming?
Yes, but only for the first 11 minutes. Then you realize that HomeZada is actually fairly easy to use.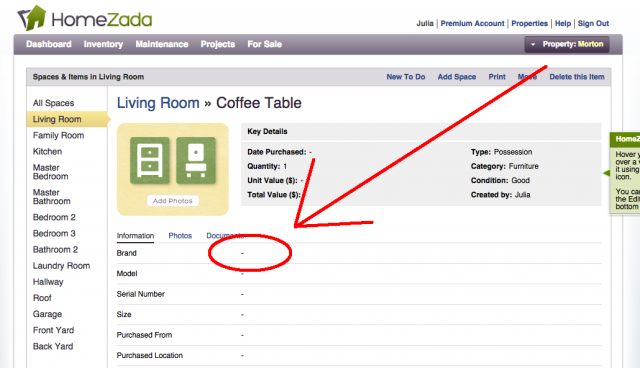 On the Inventory tab, I was adding possessions to the Living Room page so that the next time I forget I'm boiling water and the house burns down, we can make an accurate insurance claim. Each little dash – circled in the image above in red – is a clickable field you can use to add in more info.
Once you tell HomeZada about the possessions in your home, you can look at fancy charts of how much dollar value you have in each room, and see how much maintenance dollars you've invested. There are also pages for project budgets, household budgets, and property values. Wow!
I can't imagine a more thorough site.
My favorite part about the site is the list of reminders.
Inspect caulking in bathrooms was one of them. Just last night my husband and I were talking about how we needed to caulk the bathroom! Click on the tip, and you see a page that briefly explains the issue AND shares a how to video. AWESOME!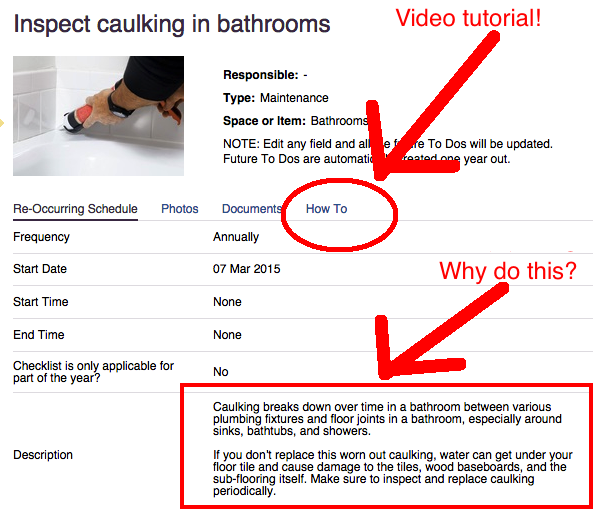 If the reminders get overwhelming, it's easy to delete them or dismiss them.
How much does HomeZada cost?
An annual membership is $59, and includes all of the features I mentioned above, plus blog posts, project ideas, and more.
How do I enter to win a HomeZada membership?
Head over to HomeZada.com.
Toodle around a bit, then come back to this post and comment with what home improvement project is at the top of your list. I personally am going to sand the heck out of our kitchen table and then re-varnish it as soon as it hits 45 degrees out.
Hang tight until we pick a random winner. The contest ends Sunday March 29, 2015 at 11:59 p.m. EST.
Good luck and until we pick a winner, I wish you much home zen!
I was compensated for this post.