I was helping my husband pick out a baby shower gift for a co-worker when I chanced upon a lovely baby shower card. After a quick glance at the front to determine if it was generally suitable, I flipped it over to check the price. What the???? I kid you not. The pricetag was $6.95. Kill me now. Because you know the only reason those $7 cards are on the shelf is because PEOPLE BUY THEM.
Have you paid $7 for a SINGLE card? If so, run away now before I publicly shame you.
A $7 card???? You have got to be kidding me. There is nothing that a card can do or say or sing that can make it worth seven fricking dollars. That is more than an hour of work at minimum wage in Georgia AND Wyoming. And very nearly the federal minimum wage of $7.25.
Who pays $7 for a card that someone is going to open once?
Then read for 15 seconds, and either recycle or stash in their attic for 22 years? Does anybody really pay attention to how "nice" the card is? And how well composed the message inside is? God forbid you pay $7 for a card that is blank inside! You still have to take the time to write a heartfelt message.
Does paying more money for a card make it more important?
So that you can be an accurate judge of my complete disbelief and disgust, I took pictures of the four baby shower cards I found priced at $6.95. Yes, FOUR! And by more than one greeting card company. So this is not just one looney card company testing how stupid we consumers are. I can just imagine the conversation.
"Hey, how much is the most we could charge for this dopey baby card?"
"I dunno. $7?"
"That's insane! Nobody would pay that much for a piece of folded paper."
"Let's try it and see how stupid people are!"
"OK!"
Here are the $7 cards. Judge for yourself.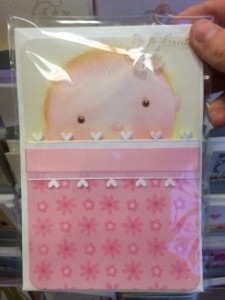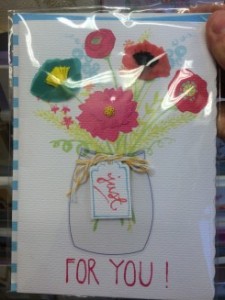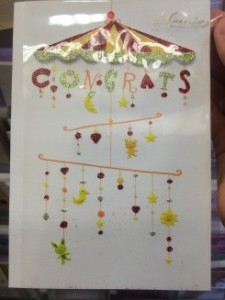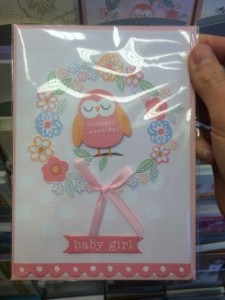 The super expensive baby cards have a few things in common.
Make sure to avoid these tell tale signs:
Has elements that physically protrude from the card, as in all four examples above

Ex. 1 above – the pink horizontal ribbon and white bows peeking out of either side
Ex. 2 above – all five flowers, the "just" tag, and the bow around the neck of the jar
Ex. 3 above – the carousel top and some of the handing embellishments
Ex. 4 above – the owl and bow and "baby girl" tag

Has real bows, not drawn ones
Jewels or other sparkly embellishments glued on
How much do you spend on cards?
I make a beeline for the 99-cent section. I also save cards that can be reused by cutting off the back then gluing the front piece onto a new piece of folded paper. It works and saves paper and money! I've also been known to buy Christmas cards at the 99 cent store. And you wouldn't believe how many free cards come up in our daily freebies list.
So really, how much do you spend on cards?